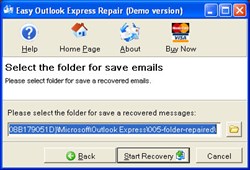 Sacramento, CA (PRWEB) May 01, 2013
Recovery Toolbox, a well-known manufacturer of premium file repair and data recovery solutions for many mainstream applications, announced the release of the most advanced version of Easy Outlook Express Repair, one of its most popular products intended for fast and accurate recovery of data from damaged Outlook Express DBX storage files.
The software was created for all categories of users and therefore requires absolutely no special skills or previous experience with programs of this type, since the intuitive interface of Easy Outlook Express Repair turns DBX recovery into a short sequence of just two simple steps.
In most cases, the program automatically detects the location of the damaged DBX mailbox file and selects it for recovery. However, users can manually specify the path to the corrupted DBX file. The program comes with a built-in viewer that enables users to preview recoverable items prior to restoring them. Messages recovered from damaged DBX files are saved in the EML format that can be easily re-imported into Outlook Express or any other email application.
"Outlook Express still has a considerable share of the market, so ignoring it in favor of Outlook and other major players would be plain unreasonable," shares his thoughts Victor Bobrov, Head of Development at MailRepair. "The product that we have just released boasts excellent recovery efficiency that exceeds that of its nearest competitors and allows users to recover their messages even from badly damaged DBX files. And this is exactly what we wanted to achieve with this software!"