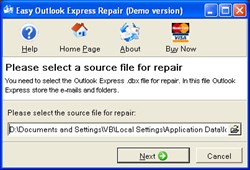 Easy Outlook Express Repair is really easy, friendly and powerful data recovery program for Outlook Express folders.
Alexandria, VA (PRWEB) November 14, 2012
The users of Easy Outlook Express Repair consider this application to be the easiest DBX repair software because it is really easy to use and guarantees the safety and efficiency of all activities having minimum of additional settings.
Easy Outlook Express Repair is the most intelligent applications for email restoration in OE format so the recovery of DBX files becomes easier. This way of DBX repair requires minimal user activity, provides friendly user interface and works with copies of input documents only to prevent the damage of DBX files.
The service of DBX file restoration runs on any computer in use, despite the version of operating system, used on specified workstation. Since Easy Outlook Express Repair features minimal system requirements, users open this software and start recovering Outlook Express folders on any computer, the network support of DBX repair tool allows accessing Outlook Express mailboxes for analysis from any drive, either local or network.
Easy Outlook Express Repair parses any version of input DBX file in use and does not have in-built restrictions for the size of input document. After the start of email recovery tool, this program automatically goes to the default location of Outlook Express folders and checks the presence of DBX files to be opened.
Mail Repair provides innovative email recovery software for Outlook Express users. This independent software vendor provides email recovery services since 2003 and helps users from many countries worldwide. All contacts of this company can be found at: http://www.mail-repair.com/contacts.html
Official site: http://www.mail-repair.com/
Product page: http://www.mail-repair.com/outlook-dbx-recovery.html