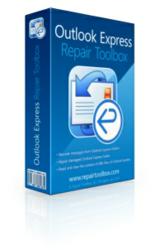 Outlook Express Repair Toolbox offers premium email restoration in Outlook Express format.
Alexandria, VA (PRWEB) December 06, 2012
DBX repair solution, powered by Outlook Express Repair Toolbox, permits recovering the structure of Outlook Express folders as soon as data corruption problems occur and damage the integrity of DBX files. OE Repair Toolbox application repairs corrupted messages, attachments, objects and other items, stored in Outlook Express folders. Users follow the instructions of Recovery Wizard or simply open this application by clicking the shortcut of Outlook Express Repair Toolbox and it is ready to work immediately after the first start.
Outlook Express Repair Toolbox is the easiest way of DBX repair, suitable for all damages, affecting the integrity of Outlook Express folders. Look through the testimonials section of repairtoolboxx.com website and get to know what people think about the efficiency of specified data recovery tool and consider evaluating this software. This approach is never harmful for the safety of personal information therefore there is no need to worry about the loss of personal information and other sensible data.
The users of Outlook Express Repair Toolbox do not encounter some kind of difficulties during the processing of selected DBX files, it is possible due to the automation of file restore operations. This software supports any hardware configuration, based on PC computers therefore the users of DBX repair application are able to initiate this service on virtually any computer, including older hardware and all supported versions of Outlook Express email program.
Repair Toolbox application developer distributes its data recovery tools and services for many years, actually it offers approximately twenty programs to restore corrupted information from various data formats. The company is located at: at: Pacific Business Center, P.O. Box 34069 #381, Seattle, WA 98124-1069, USA
The software is represented at http://www.dbxrepairtoolbox.com/ site. More description available at http://www.outlookexpressdbxrepair.dbxrepairtoolbox.com/ page.