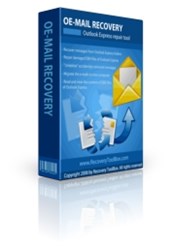 powerful and efficient solution for recovering the contents of Outlook Express folders.
Alexandria, VA (PRWEB) February 05, 2013
Recovery Toolbox is well known among users for its extensive range of simple and fast recovery tools. Now, Recovery Toolbox gladly releases a new version of OE-Mail Recovery, one of its best and most popular products. This DBX repair tool quickly and accurately extracts emails from damaged Outlook DBX files and saves then to the folder specified by the user. The interface of the program is very minimalistic and contains just the elements the user needs to complete the process. Apart from its primary purpose, this DBX repair solution can be used for performing email migrations from Outlook Express to other applications, as well as for recovering previously deleted email messages that are also stored in DBX files.
"OE-Mail Recovery is without doubt one of our best-selling products with an army of happy clients, so carrying on with the development of the program was a natural thing to do for us," explains Victor Bobrov, Head of Sales and Marketing at Recovery Toolbox. "The new version offers comprehensive support of major Outlook Express versions and a great no-brainer interface suitable literally for anyone. I hope our current and future users will appreciate its speed and functionality allowing them to get the job done in no time and with just a few clicks."
OE-Mail Recovery is a balanced DBX repair solution that helps recover emails from damaged Outlook Express files, facilitates complete transfers of emails to other email applications and can be used to restore previously deleted email messages. The software is extremely compact and can be downloaded from the manufacturer's website in seconds: http://www.oemailrecovery.com/repair-outlook-express.html