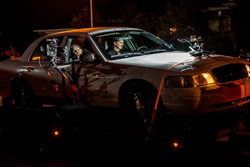 the best part is that I get to sport a 1970's porno mustache.
Los Angeles, CA (PRWEB) July 23, 2012
D.C. Douglas, who recently appeared on Comedy Central's "Workaholics" and CBS' "2 Broke Girls," has joined the casts of two dark independent films: "Helen Alone," currently shooting in Houston, Texas, and "Apocalypse Kiss," slated for an early 2013 shoot.
"Helen Alone," a David Lynch-esque coming of age story, is written and directed by Danish musician Henrik Bech Poulsen. Douglas was tapped to play a psychotic Texas cop and joins a cast that also features Daniel Baldwin ("Homicide: Life On The Street"), Priscilla Barnes ("The Devil's Rejects") and Alexis Raich ("Fringe").
"Aside from the wonderfully surreal script," admits Douglas, "the best part is that I get to sport a 1970's porno mustache. That tickles me to no end."
Last week, Douglas signed on to play a lead role in the dark, futuristic "Apocalypse Kiss." Douglas will portray an OCD serial killer who finds himself competeing for media attention with a couple of drifter lesbians (Erika Lynn Gressen and Carmela Hayslett) on an accidental killing spree. The film is written and directed by Pennsylvania filmmaker, Christian Grillo. Grillo received critical praise from the horror genre community for "Deer Crossing," starring Ernie Hudson and Doug Bradly (Pinhead from the "Hellraiser" franchise) and is concurrently working on "Deer Crossing 2."
According to Douglas, the offer to be in "Apocalypse Kiss" came as a direct result of the fans he acquired by voicing Albert Wesker in several "Resident Evil" videogames. The producers of the film are also "Resident Evil" fans and follow Douglas on Facebook.
Douglas, who is also known as the voice of Legion in "Mass Effect" 2 and 3, has been a film and television actor for over 20 years. Most recently he appeared on ABC's "Castle," TV Land's "Hot in Cleveland," and CBS's "NCIS: Los Angeles." Douglas can also be seen on the August 30 episode of TBS' "Sullivan & Son." His acting work can also be seen on his website, DCDouglas.com.