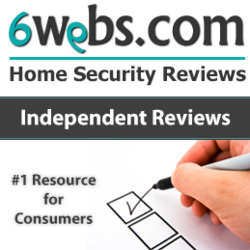 6Webs.com helps consumers compare features and services offered by the leading home security companies.
Washington, DC (PRWEB) February 24, 2013
6Webs.com, the consumer-friendly home security reviews site, recently published their rankings of the best home security system companies in the DC metro area. The independent home alarm reviews site is going across the nation and releasing their rankings of the top security providers to assist consumers who are looking to protect their home and family with a home security system. There are over 8 million residents in the DC metro area who now have an independent resource to refer to when searching for the best home security system for their family.
Tim Smythe from 6Webs.com announced, "The 6Webs.com review team announced FrontPoint Security as the best home alarm company in the DC metro area. FrontPoint Security is also nationally ranked on http://www.6Webs.com. Nine out of ten editors on the 6Webs.com review team ranked FrontPoint Security as number one choice due to their outstanding customer service record along with their cellular monitoring services and 30-day money back guarantee."
The top rated home security system companies all shared the similar aspects that are important to DC metro area residents. Reliability is the biggest concern and the top companies all provide brand named home security equipment and offer a warranty. Additionally, the technology used to communicate from the home security system to the home security company is cellular, which is a 100% wireless and secure method of communication that is far superior to a landline or Internet-based connection.
The second largest concern was ease of use. Companies like FrontPoint Security and second place winner, Protect America, offer do-it-yourself or DIY home security systems that for the most part are pre-configured before they arrive to the customer's home, making setup a breeze. ADT, who came in third place, however, has professional installation services where a technician install the home security system and sensors then is there to answer any questions a customer might have.
To compare the features and services offered by the leading home security companies in a side-by-side comparison visit:
http://www.6webs.com/home-security-systems-reviews/
About 6Webs.com
6Webs.com is the leading provider of independent and unbiased home security system reviews. 6Webs.com has helped thousands of consumers find the best home alarm system for their family. Consumers will find a wealth of educational information on the 6Webs.com website and reviews and rankings of the top home security companies in the nation.