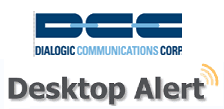 For our customers, this relationship incorporates another means for effectively reaching out when time is of the essence and communication is essential
(PRWEB) May 15, 2009
Franklin, TN / Washington, DC DCC (Dialogic Communications Corp.), a PlantCML® company and global leader in emergency notification, and Desktop Alert, Inc., a leading industry provider of network-centric emergency notification systems, today announced the companies are working together to offer an expanded emergency notification solution integrating Desktop Alert's network-centric technology with DCC's The Communicator!® NXT. The integrated solution, exclusively available through DCC, leverages the strengths of each product to deliver audible and visible critical alerts to designated recipients during critical situations.
Globally deployed throughout the public and private sectors, The Communicator!® NXT emergency notification system provides list-based, multi-modal communication to quickly and expertly mobilize personnel, crisis action teams, volunteers and others. Desktop Alert, a best-of-breed, IP-based alert technology, provides visual alerts using existing computational infrastructure and business logic through a next-generation information architecture. Integration of the two solutions will enable the rapid dissemination of these audible and visible alerts upon activation of The Communicator!® NXT, further expanding an operation's ability to alert personnel of potential hazards.
DCC and Desktop Alert share mutual customers in a wide range of industries across the defense, federal, municipal and commercial markets. Through this partnership, existing and future clients will realize the benefits of an integrated solution that provides alerting via all communications devices while reducing notification cycle completion time. Integration is made possible using DCC's next-generation API (Application Programming Interface) to The Communicator!® NXT.
"For our customers, this relationship incorporates another means for effectively reaching out when time is of the essence and communication is essential," said Scott Alfieri, DCC president.
Among the many benefits of deploying DCC's emergency notification technology are: streamlined crisis communications management; efficient personnel, first responder and population alerting; enhanced personnel accountability and resource protection; and reduced lag time from initial notification to full response. Typical activations include military recalls, campus notifications and Amber Alerts.
"Desktop Alert and DCC will continue to build on the numerous crisis communications capabilities created by the integration of these two products," said David Zadick, president of Desktop Alert. "Together we will offer our shared customers the security, ease of use, reliability, long-term sustainability and integration level they deserve."
DCC (Dialogic Communications Corp.), a PlantCML® company, is the global leader in emergency notification technology. Collectively, its on-premise and hosted solutions are used by hundreds of organizations, helping ensure their communications readiness for public safety, business continuity and homeland defense. Clients include government agencies, Fortune 500 corporations, healthcare providers, educators and U.S. military bases worldwide. DCC was established in 1982, and is headquartered in Franklin, Tenn. (a suburb of Nashville). For more information, visit http://www.dccusa.com.
Desktop Alert Inc. is an industry provider in network-centric emergency notification systems to military, government and commercial organizations for physical security and force protection. End users worldwide rely on Desktop Alert's unified mass notification systems for their emergency alerting and critical communications needs. To learn more, visit http://www.desktopalert.net
Contacts:
Tami Timperio
VP, Global Marketing Communications
PlantCML®, an EADS North America Company
Tel: 951.719.2423
###