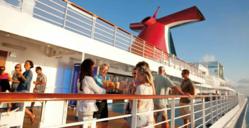 "The Cruise Watch tool provides important and reliable notifications to help make the decision of what cruise to choose, easier."
Brisbane, Queensland (PRWEB) July 22, 2012
Cruise travellers can rest assured they are choosing their ideal cruise, thanks to the release of Deck Chair Cruises' brand new Cruise Watch tool.
Created to help cruise travellers monitor changing prices on cabin categories, the Cruise Watch tool is an online resource that is paving the way for all future cruise deal websites.
Director of Deck Chair Cruises, Scott Walton, said the online Cruise Watch tool is ideal for travellers who are searching for the ideal cruise that is going to meet all of their needs.
"A cruise is a great holiday for families, friends, couples and singles, and these kinds of travellers are always going to be looking for a cruise that is specifically suited to them," he said.
"The Cruise Watch tool has been designed to alert cruisers when cabin and cruise prices change and when they sell out."
"It is a simple, personalised way for cruisers to choose their ideal cruise to suit their travel needs."
Developed for cruisers to easily monitor changing cruise cabin prices, the Cruise Watch tool is just one of the many innovative ways Deck Chair Cruising is improving the booking process for Cruises Australia.
Potential cruisers can simply enter a quote into the Deck Chair Cruises system and then request to be put on the cruise watch for the nominated cruise holiday quote.
Not only can these Cruise Watch notifications save travellers the trouble of constantly checking the website to see if fares have changed, the tool can also help them narrow down their exact travel dates, based on fares and how quickly the cruise is selling.
The tool's easy-to-use nature and the personalised touch from Deck Chair Cruising's travel professionals are what sets it apart from the rest, said Mr Walton.
"Cruisers want to be updated on when cruise prices are changing or if they are selling out fast," he said.
"The Cruise Watch tool provides important and reliable notifications to help make the decision of what cruise to choose, easier."
"It can also help determine if a certain cruising holiday is right for them."
Deck Chair Cruises is an Australian owned and operated company that specialises in organising cruises in Australia, New Zealand and the South Pacific.