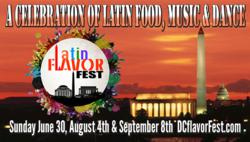 "Our concept can't be contained to one location or one date. To edit the series, would change the essence of what we want to bring to the city."
Washington D.C. (PRWEB) June 20, 2013
Creators of the Latin Flavor Festival are making a bold move to present a three part festival series over D.C.'s summer season. "Our concept can't be contained to one location or one date. To edit the series, would change the essence of what we want to bring to the city," says founder and owner Lee "El Gringuito" Smith Jr.
The Latino Flavor Festival starts the first of its three part series at Half Fairgrounds on June 30, 2013, from 11 A. M. to 8 P.M., with a live concert performance by Bachata music legend Luis Vargas who is undisputedly the most influential Bachata artist of our time. The Puerto Rican Salsa Orchestra, SalBomPle, will perform in their old school salsa style. Among others to attend are: DJ Xtassy, recipient of the Latin Billboard Producer of the Year award in 2012; Dzerej, Bachata's newest female star; And, LD & Jhoni, who recently opened seven shows for the World's number one Bachata artist Romeo Santos.
The DC Latin Flavor Fest is the newest addition to the infamous four-day international festival, the DC Bachata Congress DCBachata.com. With over 5000 patrons in attendance last year, the Congress expands by offering a fairgrounds event to appease every age with live music, Latino cuisine, Professional Latin dancing and lessons, arts and crafts, family activities and international celebrity appearances! The DC Latin Flavor Fest will be nothing short of its name! Innovative and fun contests like "So you think you can cook?" a Salsa making and tasting competition, and the "Next Bachata Voice" will keep attendees engaged.
After the success of the DC Bachata Congress, its producers Lee "El Gringuito" Smith Jr. and Kat "La Gata" Aguilar are at it again bringing together the local community to embrace Latino culture and its prominence in the current market. "Connecting and giving back to the community is a key ingredient to the success of all of our events," says co-founder Kat "La Gata". The duo will be donating part of the door proceeds to NoKidHungry.org, a Non Profit that strives to help 1 in 5 children in America whose parents struggle to put food on the table according to their website. Each event in the three part series will benefit a different organization.
The DC Latin Flavor Fest will take place from 11am to 8pm at the Half Fairgrounds at 1299 Half Street SE, Washington, DC 20003 located right next to the Nationals Stadium and directly across from the Navy Yard Metro Station.
The second will be on August 4th a kickoff to the 5th Annual DC Bachata Congress, celebrating Latin dancing. And, the final date will be on September 8th with a special commemoration to Hispanic Heritage Month.
Among those invited are: DC Mayor Vincent C. Grey; Director Roxana Olivas of the Executive Office of the Mayor on Latino Affairs; Ana Sol Gutierrez of the Maryland House of Delegates; Chris Simmons Managing Partner of PWC Tysons Corner; the Latin American Student Association at Georgetown; the American Student Organization of American University; Pedro Biaggi of El Zol 107.9FM; And, other dignitaries in the Latino community in the Washington DC metro area.
Tickets are $15 in advance and $20 at the door. Kids 12 and under are free. Tickets can be purchased at http://www.dcflavorfest.com and http://www.Tickeri.com.
For additional information, visit http://www.dcflavorfest.com or call (703) 599-3018 or email dcflavorfest(at)gmail(dot)com.