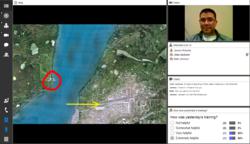 We're proud to support those serving our country by continuing to innovate on and deliver the most effective collaboration experiences across devices, said Barry Leffew, vice president of Public Sector Sales, Adobe Systems Incorporated.
Reston, VA (PRWEB) January 29, 2013
Carahsoft Technology Corp., the trusted government IT solutions provider, and the Defense Connect Online (DCO) Team today announced that the newest release of the DCO Connect Mobile app is now available for iOS mobile devices and free download on Apple's App Store.
This announcement follows the team's recent release of a major update to its DCO Connect Mobile app for Android devices, enabling anywhere, anytime mobile collaboration leveraging Adobe® Connect™ web conferencing across over 800,000 users at the U.S. Department of Defense. The DCO Connect Mobile app for iOS delivers hosting, presenting, and sharing controls to fully drive collaboration and fulfill the many different use cases DoD personnel have for collaboration while operating in a mobile environment.
"We're proud to support those serving our country by continuing to innovate on and deliver the most effective collaboration experiences across devices," said Barry Leffew, vice president of Public Sector Sales, Adobe Systems Incorporated. "The DCO Connect Mobile app, through our work with the DCO team and Carahsoft, is another example of that ongoing commitment."
The capabilities map to those of the standard Adobe Connect Mobile 2.0 app. For tablets and smartphones, these include:

Start and end meetings
Manage participants
Control all active pods
Present content (e.g., advancing slides and animations)
Video conferencing with front and back-facing camera support
Use emoticons: Raise Hand, Agree/Disagree
Additional functionality is available for tablet devices and includes:

Start, stop, and manage meeting audio and teleconferencing bridge
Invite others to the meeting
Start and stop recordings
Enable web camera rights for all participants at once
Switch between layouts in the meeting room
Share content from share history
Share content from the DCO 'My Content' library
Share content from local device photo library
Use drawing tools (pencil, highlighter, shapes) on whiteboard and on top of shared files/video
Use emoticons: Speak Louder/Speak Softer, Speed Up/Slow Down, Laughter, Applause
Stepped away indication appears when multi-tasking away from app
Participate in breakout rooms
Launched in 2007 by the Carahsoft|Adobe team, DCO leverages Adobe Connect web conferencing and Cisco XMPP (Extensible Messaging & Presence Protocol) solutions to provide advanced web conferencing, presence and awareness, and chat capabilities. The rapidly growing service is used across the DoD and supports more than 800,000 registered users who, in FY2012, used the system in excess of 500 million web conferencing minutes.
"Through our ongoing and valued partnership with Adobe and the DCO team, Carahsoft is proud of our continuing efforts to provide all DCO users with mobile access to this proven, indispensable collaboration capability," said Mark Mills, Carahsoft vice president and DCO program manager.
The app supports the following devices and operating systems on iOS:

Devices: iPad, iPad2, iPad3; iPhone 4 and 4 S, iPod touch (3rd generation minimum recommended)
Supported OS versions: iOS 4.3.x, 5.x, or 6.x (5.x or higher recommended)
For more information, contact the Carahsoft|Adobe team at (440) 610-4019.
About Defense Connect Online (DCO)
DISA's Defense Connect Online program, managed by DISA's Program Executive Office, Enterprise Services (PEO-ES) in conjunction with the Carahsoft|Adobe team, is the Department of Defense's premier collaboration tool. DCO's explosive growth is testimony to its intuitive user-interface and its mission-critical utility; providing users with a collaboration tool that enhances planning and communication between units, commands and agencies and improves operational effectiveness.
DCO services, to include the DCO Connect app, are free of charge to all DoD personnel and contractors. For more information, visit http://www.carahsoft.com/dco. Visit DCO on facebook.com/DefenseConnectOnline.
About Carahsoft
Carahsoft Technology Corp. is the trusted Government IT solutions provider. As a top-ranked GSA Schedule Contract holder, Carahsoft serves as the master government aggregator for many of its best-of-breed vendors, supporting an extensive ecosystem of manufacturers, resellers, and consulting partners committed to helping government agencies select and implement the best solution at the best possible value.
The company's dedicated Solutions Divisions proactively market, sell and deliver Adobe, VMware, Symantec, EMC, F5 Networks, Open Source, HP, SAP, and Innovative and Intelligence products and services among others. Carahsoft is consistently recognized by its partners as a top revenue producer, and is listed annually among the industry's fastest growing firms by VAR500, CRN, Inc., Washington Technology, Washington Post, Washington Business Journal, and SmartCEO. Visit us at http://www.carahsoft.com.
Contact:
Mary Lange
Carahsoft
703-431-8485
press(at)carahsoft(dot)com