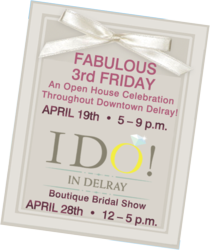 Delray Beach, Florida (PRWEB) April 09, 2013
Downtown Delray Beach Development Authority (DDA) is proud to announce Downtown Delray Beach will be the home to the first annual "I Do in Delray Boutique Bridal Show Experience." The event will be an eager, sophisticated bride's dream come true including only the top vendors and talent in the wedding industry. It will be a daylong experience held on Sunday, April 28th with various events sprinkled over Downtown Delray. Event registration will take place at 10:00 am at the Hyatt Place in Downtown Delray Beach located at 104 NE 2nd Avenue and will be showcased at two other distinct locations, Delray Beach Center of the Arts and The Arts Garage.
Laura Simon, Associate Director of DDA exclaimed, "We are taking this opportunity to share with visitors and residents what makes Delray Beach truly a fantastic place to say "I Do" – you can find the venue, the flowers, the shoes, the dresses, the outfits, the invitations, the caterer, and the gifts along with much more here in this Village by The Sea!"
She encourages all those in the process of planning a wedding not to miss the "I Do in Delray Boutique Bridal Show Experience." Visit idoindelray.com for all the costs, details and see how Downtown Delray is THE place to begin your happily ever after.
Simon concluded by stating, "You do not need to go anywhere else – we have it all with exceptional customer service!"
The Victoria Desilvio Group along with Futuristicwoo with support from the Delray Beach Downtown Development Authority are producing this ultimate wedding experience. For more information regarding the "I DO in Delray Boutique Bridal Show Experience" please visit http://idoindelray.com/
About the Downtown Development Authority:
For the past 41 years, the Downtown Development Authority has assisted in successfully branding Delray Beach as the Village by the Sea. The Delray Beach DDA was created by Resolution 9-71, which became law on March 22, 1971, as a dependent district of the City of Delray Beach. The DDA Mission is to enhance and stimulate balanced economic growth through position marketing activities that engage Downtown businesses, residents and visitors while creating a clean, safe, physical and experiential place to live, work and invest. The main areas of involvement in downtown redevelopment include: Marketing and Promotions; Economic development programs; Place Making within the DDA boundaries. The DDA also works closely with merchants to develop seasonal retail awareness campaigns to generate traffic and sales and has created a powerful website http://www.downtowndelraybeach.com and facebook.com/delraydda site that attracts thousands of visits weekly.
Contact:
Laura Simon, Downtown Development Authority
85 SE 4th Ave, # 108
Delray Beach, Fl 33483
(561) 243-1077
Lsimon(at)downtowndelraybeach(dot)com
http://www.downtowndelraybeach.com/dda