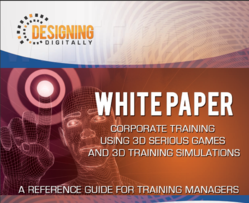 What an excellent resource about serious games, and 3D training simulations for online learning!
Franklin, Ohio (PRWEB) October 17, 2012
Designing Digitally, Inc Releases White Paper: Corporate Training Using 3D Serious Games and 3D Training Simulations – Reference Guide for Training Managers
Business is under constant change and competition is ever-increasing. It is imperative that creating and sustaining a competitive advantage be a high priority and training is one area where organizations can do so. In comparison to traditional training methods, the use of 3D serious games, 3D training simulations, and virtual worlds offers greater flexibility, higher retention rates, more efficient use of training resources, and more.
With over a decade of development experience, Designing Digitally, Inc. is pleased to announce the release of a white paper focused on the importance of utilizing immersive 3D learning to carry out critical training operations.
Download this white paper to learn:
1. The differences between 3D training simulations, 3D serious games, and virtual worlds
2. The benefits of utilizing 3D in training
3. The challenges with implementing 3D learning
4. The industries and topics where 3D learning is most effective
5. The future of 3D learning