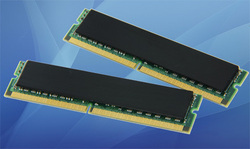 In support of our customer's requirements, Virtium has designed a cost-effective module that saves board real estate, and allows designers to populate two 4GB modules side-by-side in a dual socket layout
Rancho Santa Margarita, CA (Vocus) October 26, 2010
Virtium Technology Inc., a leading designer and manufacturer of memory modules for specialized computers in demanding environments, today announced the release of its new 4 gigabyte (GB) DDR3 Registered Mini-DIMM in the Very-Low Profile (VLP) 0.72-inch form factor that features a minimal of 0.140-inch or 3.56mm module thickness. Virtium's new 4GB VLP Registered Mini-DIMM module is innovatively designed using mainstream 2Gbit DDR3 DRAM monolithic package components that meet customer needs for high density, smaller size and lower cost modules. To improve system reliability and Mean Time Between Failure (MTBF), Virtium has applied a new layout technique that reduces the module's overall thickness and enables greater airflow through the components and throughout the system. The Virtium 4GB VLP Registered Mini-DIMM is an optimal solution for a broad range of high-availability, critical system applications that include AdvancedTCA blades, PCI Express RAID cards, Ethernet switches and routers.
"In support of our customer's requirements, Virtium has designed a cost-effective module that saves board real estate, and allows designers to populate two 4GB modules side-by-side in a dual socket layout," said Phan Hoang, vice president of research and development at Virtium Technology. "Virtium is committed to developing the highest reliability products for our customers. By using non-stacking, high density monolithic components that provide high MTBF, our VLP Registered Mini-DIMM gives designers a worry-free design compared to alternative modules built with BGA stack or dual die packaging (DDP) DRAM components."
Part Number Product Description
VL53B5263E-K9S 4GB DDR3 VLP Registered Mini-DIMM PC3-10600 ECC
VL53B5263E-F8S 4GB DDR3 VLP Registered Mini-DIMM PC3-8500 ECC
VL53B5263E-E7S 4GB DDR3 VLP Registered Mini-DIMM PC3-6400 ECC
The Virtium 4GB DDR3 VLP Registered Mini-DIMM is lead-free, RoHS compliant and is available with thermal heat-spreader, thermal sensor, conformal coating and underfill protection options.
ABOUT VIRTIUM
Since 1997, Virtium memory solutions have been integrated by leading computer manufacturers around the globe, in a wide variety of challenging industries where performance and reliability are paramount, including embedded systems, networking/telecom, storage servers, military/aerospace, medical, and infotainment markets. Virtium combines first to market memory solutions with continuity of support for legacy memory products in mature systems. Virtium provides extra-mile service to save design engineers and procurement professionals' time and money. Virtium delivers a worry-free experience.
Its memory module product line encompasses a wide range of densities and data transfer rates in all major memory product categories including DDR3 and DDR2 MiniDIMM, VLP MiniDIMM, VLP Unbuffered Mini-DIMM, VLP Registered Mini-DIMM, SO-UDIMM, SO-RDIMM, ECC SODIMM, Mini-UDIMM and Mini-RDIMM, together with enhancements needed in challenging environments.
Headquartered in Southern California, Virtium is a privately held; financially-sound technology company with U.S.-based design and manufacturing facilities certified to IS0 9001:2000 and AS9100 Rev. B. Virtium maintains representative offices throughout the U.S., Europe and Asia. For more information, call toll-free at 1-888-VIRTIUM (1-888-847-8486) or visit Virtium Technology online at http://www.virtium.com.
# # #