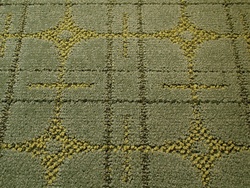 The interior design industry is also changing
NEW YORK (PRWEB) July 28, 2008
Created from a standpoint of social and environmental responsibility, a strict adherence to natural and sustainable materials are principles that are incorporated into all aspects of the line. Yet the work according to Joanne De Palma, doesn't sacrifice function without form.
As a former, traditional, high-end residential and commercial interior designer, Ms. De Palma made a shift into environmental product design after a spiritual walk she took in Spain, and extensive work she did with the American Indians. That combined with changes in the industry that she had noticed served as impetus to realign her business practices, and reconnect to the natural world.
"Given the current conditions we face in the environment, to me the decision was obvious," she says. "The interior design industry is also changing," she adds. "Our clients don't employ large staffs like they used to. They also don't want interiors that require a lot of maintenance, and this is true on both the residential and commercial ends," she affirms. People want the option of buying furniture that is environmentally conscious, yet still conforms to a more classic aesthetic. For this reason, De Palma's work boasts environmentalism within tradition. It is practical yet embracing.
De Palma's Oak,™ "Etruscan,™ Nature,™ and Transition™ furniture lines, combine high style and sustainable manufacturing from the personal care of a family owned custom shop. All materials for the line, which consist of beds, side, arm, and lounge chairs, night stands and cabinets, with the exception of the designer's own sculptural metal elements that make up the hardware for the pieces, are natural and biodegradable. Through these lines, De Palma hopes to initiate the move into full sustainability in high-end luxury furniture.
Joanne De Palma also lends this thoughtful and aesthetic philosophy of product design to her flooring options. De Palma's carpet line, Mystic Journey™ manufactured by Bentley Prince Street, a leading manufacturer of stylish floor coverings for nearly three decades, consists of a collection of five carpet patterns. All five styles -- Falling Rain, Vortis, Future Connections, Intuitive Impulse and Journey's Path– are available in broadloom. Falling Rain is also offered in 18" X 18" carpet tile.
According to Ms. De Palma, Mystic Journey was inspired by the 900-kilometer walk she took in Spain through desert terrain, mountains, and modern windmill farms, ending in a small village on the Atlantic Ocean. "Through the journey I developed a profound sense of connection between human beings and nature," she says. "Through the Mystic Journey Collection I created a visual translation of this incredible experience into our carpet designs."
"I chose to work with Bentley Prince Street, because their Mission Zero™ initiative to eliminate negative impact on the environment is in keeping with my dedication to the health of the planet through considerate use of sustainable materials, responsible manufacturing practices and continuing support of environmental causes," explains Ms. De Palma.
"We have lost sight of the things that really matter in life for the disregard we have demonstrated towards our natural resources," maintains Ms. De Palma. "As a result, we have isolated ourselves from each other. Through my efforts as an environmental product designer, it is my intent to help us reconnect to what is most important, the health of our children, our environment, and ourselves.
All five patterns in the Mystic Journey Collection are manufactured with 50 % recycled nylon. Also, High PerformancePC™ is the standard backing system on all Bentley Prince Street broadloom products. This unique latex formulation recovers mineral residual from the paper recycling industry in an environmentally friendly fashion, resulting in a minimum average 10 % post-consumer recycled content by total product weight.
Through the choices De Palma also offers in her Metals™ line, with a hand crafted aesthetic and different patinas that far exceed normal high production quality, she again honors the artisan and the value of craft. According to Ms. De Palma, this line is currently the most transitional of all her products. In her continuing efforts to refine the manufacturing process, not only does she consider worker health and safety, but increased air quality, reduced waste and recycling, and the least toxic production methods available today as part of her initiatives to help honor our connection to all life on the planet.
Additional initiatives from Ms. De Palma include the interiors for Kentshire Galleries' newest expansion on Madison Avenue. Kentshire Galleries is one of New York's most renowned resources for antique furniture and accessories, and fine period and estate jewelry. The business was founded in 1940.
As part of the job, Ms. De Palma introduced clean, natural finishes into a high style and luxurious aesthetic. She rallied the support of artists and craftsmen who did not typically work on commercial projects. Their skills embodied methods used in 18th and 19th century, perfect counterpoints for the antiques. The organic textiles were hand-painted with plant-based dyes and the stair railings were fabricated using traditional blacksmithing. The job also incorporated classic painting techniques with the use of innovative materials.
She is currently working on a sustainable camp in Kenya, which involves collaboration with another environmental steward who hopes to preserve some of the last wild roaming lands in Kenya, Africa.
Joanne De Palma Inc. located in Columbus Circle in New York City. As part of its overall plan to strengthen awareness of the environment and foster a social consciousness in the world, it handles all aspects of the design, from research and manufacturing, to the distribution and installation process. For more information, please visit http://www.joannedepalmainc.com
MULTIMEDIA GALLERY http://www.businesswire.com/cgi-bin/mmg.cgi?eid=5741165