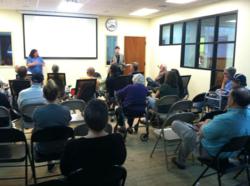 Our goal is to provide emergency sheltering that serves all populations, including persons with disabilities, and people with stable but chronic medical conditions. - Kathy Russell, Emergency Preparedness Planner for El Paso County
COLORADO SPRINGS, Colorado (PRWEB) May 24, 2013
The Independence Center hosted a representative from El Paso County at its monthly Deaf Chat on May 17. The county shared its emergency alert system and emergency information for the Deaf and Hard of Hearing community. Emergency Preparedness Planner for El Paso County, Kathy Russell, presented to more than 40 people during the two-hour meeting.
"I think the meeting with the group went extremely well. It was an honor to speak to a standing-room-only audience, full of engaged and positive people," said Russell, "Everyone had interesting questions, and shared helpful information. I thoroughly enjoyed the afternoon I spent with them."
The Deaf Chat covered multiple topics including emergency alert tips along with understanding E911 Emergency Notification System and National Weather Radio alerts. Russell also discussed the topic of sheltering during an emergency and what the county's goal for emergency sheltering consists of.
"We've worked with the Red Cross to update sheltering policies and procedures to comply with the Americans with Disabilities Act. Our goal is to provide emergency sheltering that serves all populations, including persons with disabilities, and people with stable but chronic medical conditions," said Russell.
Russell shared various methods for emergency preparedness like having a human network to communicate with or going next door to check on your neighbor.
"Last summer, we saw how communities, large and small, pulled together to take care of their own. As Deaf Chat members develop their individual emergency preparedness plans, they have a wonderful opportunity to work as a group to share ideas and solutions," Russell said.
Community member, Barbara Forsyth, found these tips helpful and informative.
"I was very impressed with the info about the burn scar. (What Kathy said) was important, very important – I didn't recognize the scale. Everything she shared was wow. (The information) was helpful (and) understood very clearly. (I) get why flood risk is greater now," said Forsyth.
For more information on emergency preparedness, please visit The Independence Center's website at http://www.theindependencecenter.org/advocacy/emergency-prep.