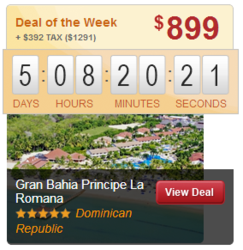 Hamilton, ON (PRWEB) January 22, 2013
Vacation seller tripcentral.ca announced the successful launch of its Deal of the Week in an effort to out-perform e-couponing communities by offering greater value at lower prices. Originally soft-launched in November 2012, Deal of the Week is now up and running at full capacity.
In partnership with major chartered Southern and European package holiday and tour companies such as Transat Holidays and Nolitours, tripcentral.ca features a new Deal of the Week every Tuesday. These deals differ from your average run-of-the-mill bargains for several reasons:

Vacation packages are offered at low prices for a limited time only exclusively at tripcentral.ca
Deals of the Week offer multiple departure dates for the same product at the same price with the same inclusions
Inclusions, such as free room upgrades and pre-paid promotional cards, add value to the already low package prices
Unlike typical group rates, Deals of the Week hold space and prices without requiring a deposit from the customer
"I'm very excited about the program," said Lawrence Solomon, Groups and Web Merchandising Coordinator at tripcentral.ca. "I see it as an alternative to regular priced packages, which give the public what they've been asking for… more for less."
These exclusive weekly deals allow tripcentral.ca to offer customers the lowest prices available anywhere then top them up with even more added value inclusions, so the consumer is guaranteed to get the best bang for their buck.
"I personally have high expectations for the program and foresee the deals selling out quickly, especially now that we're in high season," said Solomon.
Currently, Deal of the Week offers land only vacation packages. Sources at tripcentral.ca have stated, however, that cruise sales will be added in the coming months, so travellers are encouraged to visit the Deal of the Week page frequently.
tripcentral.ca is more than just a website. It is a traditional bricks and mortar travel agency with many retail locations in Ontario, Nova Scotia, and New Brunswick. In operation since 1989, the company has grown to one of the largest travel companies in Ontario and employs over 120 people. We offer a unique value proposition - the best of the web, and the best of the experienced travel agent. Our experienced vacation specialists have firsthand knowledge of the destinations, hotels, cruises and tours that you're seeking.
Contact: (905) 570-9999
Lawrence Solomon, Groups and Web Merchandising Coordinator – lawrencesolomon(at)tripcentral(dot)ca, ext. 7292
Pam DeHaan, Manager Marketing & Specialty Products – pamdehaan(at)tripcentral(dot)ca, ext. 7380