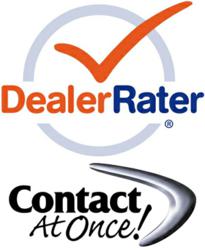 We believe that the integration of Contact At Once! chat will enable our Certified Dealers to connect with in-market consumers in a way that is faster and more convenient than an email or a phone call.
Atlanta, GA (PRWEB) May 21, 2012
Contact At Once!, the dealer chat leader, and DealerRater, the world's premier car dealer review web site, today announced the immediate availability of a new chat feature which enhances the already comprehensive suite of tools offered to DealerRater's Certified Dealer partners. The collaboration enables real-time chat between automotive dealerships and online shoppers researching a specific dealership's reputation by investigating consumer reviews on DealerRater.com.
"Our third-party generated dealer reviews and ratings have helped car shoppers to determine and validate which dealerships they would like to do business with," said Chip Grueter, President of DealerRater. "Since DealerRater Certified Dealers are committed to providing quality customer service, we believe that the integration of Contact At Once! chat will enable our Certified Dealers to connect with in-market consumers in a way that is faster and more convenient than an email or a phone call--and ultimately will provide an enhanced shopping experience for our consumer user base."
The Contact At Once! dealer chat network includes third-party listing sites such as AutoTrader.com, Cars.com, CarsDirect.com, CarSoup.com, Edmunds.com, EveryCarListed.com and UsedCars.com, manufacturer websites like Kia.com, partner websites as exhibited with DealerRater.com as well as standalone dealership and dealer group web pages. Once enabled, dealers can respond to consumer chats originating from anyplace in the dealer chat network by leveraging a single set of tools and processes. Dealers that deploy Contact At Once! dealer chat software typically experience an increase of at least 25% in the number of online shoppers contacting the dealership.
"Dealerships are looking for simplicity when it comes to chat," explained Contact At Once! Director of Business Development Lloyd Hecht. "No one desires the hassle or confusion of using a variety of different chat vendors and procedures to connect with consumers. By embedding our automotive chat solution, DealerRater has greatly simplified things for their clients. Dealers can now utilize a single chat solution to manage chats originating from their DealerRater listing, the dealership's own website as well as the third party and OEM websites that are part of the Contact At Once! dealer chat network."
Contact At Once! chat is now available to DealerRater Certified Dealers, Service Centers and Body Shops. To learn more or to become DealerRater Certified please visit: http://www.dealerrater.com/CDP/
About Contact At Once!
Contact At Once! is the leading automotive chat provider and operator of the automotive industry's only dealer chat network connecting more than 10,000 auto dealers with the websites car shoppers visit most often. Adding Contact At Once! chat to a website typically increases a dealership's sales conversations by at least 25%. Named by Inc Magazine as one of America's 500 fastest growing businesses in August of 2011, as well as one of the Atlanta Journal-Constitution's Top Places to Work in 2012, Contact At Once! is headquartered in Atlanta, Georgia. For more information about the company's auto dealer chat product, please visit http://www.autodealerchat.com.
About DealerRater
DealerRater was founded in 2002 as the first car dealer review website worldwide. DealerRater is the world's #1 online resource for anyone seeking third-party information on automobile dealerships. DealerRater features more than 41,000 U.S. and Canadian car dealers, 700,000 consumer reviews and over 1,000,000 cars for sale. DealerRater attracts more than 8 million consumers every year who visit the site to search for car dealerships, read current reviews, write their own descriptive reviews, and find car deals – all for free. Car dealers are rated on the criteria of customer service, quality of work, friendliness, price and overall experience. In addition, DealerRater offers qualified car dealers a Certified Dealer Program as an online reputation management tool for car dealers, to help them grow their online presence and achieve higher SEO rankings across the Web. Today, more than 4,300 dealers are members of DealerRater's Certification Program. For more information, visit http://www.DealerRater.com or call 800-266-9455.