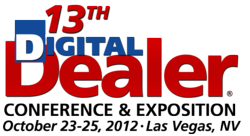 Detroit, MI (PRWEB) September 29, 2012
Dealers and managers will learn to measure and correct the top 10 profit leaks in their phone process. Chip will bring focus on the importance of the phone mechanics in the automotive market as the call count increases, and the market brings demands of better processes. There exists a true opportunity for differentiation for those that respond to these demands by creating a "caller's journey" that exceeds the outcry for improvement. Chip King is sharing his expertise with dealers and managers.
What will dealers and managers learn and what action items will they take back to the dealership?
1. Learn about the biggest profit leaks in the dealership's phone system.
2. Learn what the most successful dealers and managers have put in place to fix these profit leaks.
3. Learn what impact the dealership's service caller's journey is having on the dealership's sales retention and vice versa.
4. Learn if dealers and managers can improve the dealership's appointments set, show, and buy…before dealers and managers require focus on phone skill training.
Chip King, owner of CallRevu, LLC, spent his career in automotive retailing from 1977 to 2008. Holding every position in variable operations, including general manager and dealer principal, King has had a special focus on the "customer experience" throughout. CallRevu was born in 2006 to manage the age-old and biggest profit leak in the retail business – the phone. CallRevu has since grown to a staff of over 250, and serves dealerships across the U.S.
Chip King will be speaking to dealers and managers on how to correct the top 10 profit leaks in the auto dealership phone process at the 13th Digital Dealer® Conference & Exposition, October 23-25, at The Mirage in Las Vegas, NV. For more information about Chip King and other speakers, visit: http://www.DigitalDealerConference.com
ABOUT DEALER COMMUNICATIONS
Dealer Communications is the leading multi-media information source for franchised automotive dealers and managers. Connecting with franchised automotive dealers and managers over ten million times per year, Dealer Communications publishes the monthly print and online editions of Dealer magazine and Digital Dealer magazine. Online weekly newsletters include Dealer; Digital Dealer; Dealer Fixed Operations; Dealer Pre-Owned; Dealer F&I, and Dealer Sales and Marketing. Dealer Communications also offers the Digital Dealer Webinar Series, with online presentations throughout the year. To see all that Dealer Communications offers, visit: http://www.dealer-communications.com.
Dealer Communications also owns and operates the Digital Dealer Conference & Exposition, the premier educational conference and expo dedicated to Internet and technology solutions for automotive professionals. Digital Dealer events deliver the largest array of speakers, peer to peer opportunities, and exhibit hall offerings – all carefully designed to impart cutting edge business strategies. With an audience of the industry's most progressive dealers and managers and the most innovative conference format, Digital Dealer provides the ultimate learning and networking environment.
The 13th Digital Dealer Conference and Exposition will be held October 23-25, at The Mirage in Las Vegas, NV. There will be new Digital Dealer Learning Labs, Digital Dealer Innovation Hours, a new Digital Dealer Peer Networking Roundtables dinner, more than 100 workshops, over 100 specialized technology solutions providers, and many more exciting new benefits. For more information, visit: http://www.DigitalDealerConference.com