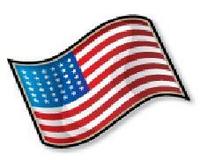 Norwalk, CT (PRWEB) June 12, 2008
DealMax (SM), a multi-tiered discount shopping program from Adaptive Marketing LLC, prides itself on knowing a little something about everything -- including proper handling of the American flag. Nationalistic feelings over the "Stars and Stripes" seem to have been on the rise in recent years, and AP9 DealMax wants to help honor America -- by the book -- the way history intended.
Back in 1916, then-President Woodrow Wilson officially declared June 14th as National Flag Day. Prior to that, though, and thanks to a dedicated New York City kindergarten teacher named George Balch, the first "unofficial" Flag Day celebration took place at the Betsy Ross House in Philadelphia, PA, on June 14, 1891. (Apparently, Balch arranged a special day for his students to honor the flag in June 1889; his idea was adopted by the New York State Board of Education and was later recognized elsewhere.)
For years after President Wilson's proclamation, people in many cities in different U.S. states celebrated June 14th as Flag Day. And in 1949, some 60 years after George Balch's original patriotic notion, 33rd U.S. President Harry S. Truman signed an Act of Congress designating June 14th of each year as National Flag Day. Armed with that bit of important history on "Old Glory," DealMax advises displaying the U.S. flag with pride … and with special attention to these simple but important U.S. flag codes:
-- Wait for the word. Only the President or a state governor can order a flag to be flown at half-staff. This often indicates a time of national (or statewide) mourning, and flags shouldn't be flown at half-staff unless the official word is given.
-- Don't seal the deal. It might look cool in a college dorm room or even as a decoration on the ceiling of a den or living room, but the U.S. Flag Code (established in 1923) prohibits the flag from being used as a ceiling covering.
-- Make sure it's the one and only. They say that George Washington commissioned Betsy Ross to sew the first U.S. flag to very precise specifications. That's why the flag needs to be displayed in its purist form; with nothing attached to it, nor altered in any way. Again, decorations might look cool or amusing, but they might also offend someone.
-- This ain't no costume party. No part of the flag -- except replica patches and lapels -- should ever be used as a costume. The late Abbie Hoffman probably didn't see things that way, but the flag represents a living country and is considered a living thing by many.
AP9 DealMax offers these handy guidelines on the American flag not only to help citizens celebrate Flag Day on June 14th, but also to honor America throughout the entire year. Show respect and personal pride in the U.S. -- with a little help from DealMax.
About DealMax
DealMax is a leading membership discount program offered by Adaptive Marketing LLC. Headquartered in Norwalk, Conn., Adaptive Marketing is a category leader in membership programs, bringing value direct to consumers through an array of benefits in healthcare, discounts, security, personal property and personals. Members may access their benefits at MyDealMax.com. With broad online and offline distribution capabilities, Adaptive Marketing offers its corporate client partners effective tools to enhance market presence, strengthen customer affinity and generate additional value through programs such as AP9 DealMax.
###