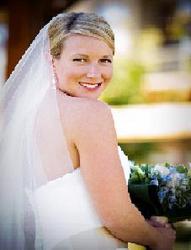 Norwalk, Conn. (PRWEB) June 2, 2008
The time has come. He's proposed, she's still getting used to wearing the ring, and family and friends are asking for details about the wedding. When is it? Where? Is it a day or an evening wedding? Will it be a big reception? Has the wedding dress been found yet? DealMax, a premier membership discount program from Adaptive Marketing LLC, knows that if planning a wedding is a daunting task, choosing the ideal wedding gown can be almost as overwhelming.
On average, a bride will try on at least 17 gowns and visit at least three different bridal boutiques before finding the perfect dress. The most important thing brides have to remember is that the "ideal dress" is not necessarily the one a particular celebrity wore on her wedding or one that resembles Cinderella in every way, but the one that fits her best, according to her body shape, size and style.
When choosing a wedding gown, brides needs all the help they can get, so here are five important tips consider during the process, brought by DealMax:
-- Get inspiration. Internet sites and bridal magazines are the best place to find the preferred style. Start out with a general idea of the desired kind of dress: traditional, straight, empire line, princess line, etc. Gather as many ideas as possible, and bring those pictures to the bridal boutique.
-- Diversify. Don't zero in exclusively on one style or one particular designer. Having an open mind helps brides explore different options, and some dresses look plain on a hanger but fabulous on a body.
-- Be practical. Consider the season when choosing the design and fabric of the dress. A long, tight gown or a puffy one can make it harder for the bride to walk or dance. As for fabrics, let the season decide. Think brocade, satin, velvet and other heavy fabrics for fall and winter ceremonies. Spring and summer wedding gowns call for pure cotton, lace, silk, chiffon, and light fabrics.
-- Stay budget-conscious. A top-designer wedding gown (Monique Lhuillier, Oscar de la Renta, Oleg Cassini, Vera Wang, etc.) can cost more than a two-month honeymoon in Europe, but there are ways to get a designer gown without paying the price. Visit bridal salon chains and look for sample sales to get designer gowns for half-price or less. Don't forget to add the cost of veil, headpiece, lingerie, shoes, jewelry and alterations to the dress budget, reminds DealMax.
-- Bring backup. Sales clerks will give advice, but they also work on commission. Bring mom or a trusted friend along to provide feedback and honest opinions. A bride should take their suggestions into consideration, together with her own instincts. If a bride has to be reassured that the dress looks great on her, it's probably not the one.
While choosing their wedding dress, brides also have to take care of other wedding-related details. To save time and money on their favors, decoration, fashion and other needs for that special day in their lives, smart brides can enjoy the benefits of DealMax.
About DealMax
DealMax is a leading membership discount program offered by Adaptive Marketing LLC. Headquartered in Norwalk, Conn., Adaptive Marketing is a category leader in membership programs, bringing value direct to consumers through an array of benefits in healthcare, discounts, security, personal property and personals. Members may access their benefits at MyDealMax.com. With broad online and offline distribution capabilities, Adaptive Marketing offers its corporate client partners effective tools to enhance market presence, strengthen customer affinity and generate additional value through programs such as DealMax.
# # #