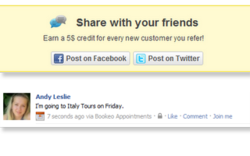 The ability to import my LivingSocial voucher codes into Bookeo so customers can book classes online saved me many hours and headaches, and it made the process so easy for my customers.
Sydney, Australia (PRWEB) May 19, 2011
The "deal of the day" phenomenon by sites like GroupOn and LivingSocial has changed the marketing landscape for many small businesses. Now online booking leader Bookeo aims to improve it by making it possible for a business to grow using social marketing tools, without having to pay hefty commissions.
Every business can now run its own "deal of the day" promotion, offering its customer base special discounts that are only valid for a limited time and a limited number of coupons. If a "slow day" appears on the calendar, a business owner can offer a discount to the first few customers that book an appointment for that day, and the problem is solved.
The tight integration between the calendar and the "deal of the day" promotion launch makes it possible to run targeted promotions to address high inventory problems as they arise: there is no need to wait for anyone's approval to launch a promotion.
And, even more importantly, there is no commission to pay. The daily deals can be automatically posted to Facebook, Twitter, or sent via email through a marketing campaign.
Bookeo also caters for businesses wanting to use external "deal of the day", integrating with all the leading coupon providers such as GroupOn and LivingSocial.
Instead of having to manually validate coupons as customers walk in, which is a time-consuming and error prone activity, business owners can let Bookeo perform the validation automatically at the time of online booking, ensuring that there are no mistakes or risks of fraud. Companies offering daily deals on tours and activities often receive hundreds of bookings in a short time, and having an automatic coupon validation process can save many hours of tedious work.
But perhaps the most important tool in the modern social marketer's arsenal is viral marketing, also known as "word of mouth" in previous, simpler, times. Bookeo enables small businesses to grow using viral marketing, completely automating the process. After a customer has booked an appointment, Bookeo will offer the possibility to share it on social networks, with a single click. The message posted invites friends to join, again with just one click. To provide an incentive, the business owner can offer small discounts or gifts to the original customer and the friends, as all referrals are tracked automatically for rewards. "Every marketing guru explains how word of mouth is the best form of marketing, because people naturally tend to trust their friends much more than any advertising", says Giovanna Roncali, Marketing and Customer Manager at Bookeo. "Now Bookeo makes the process as simple as possible, and even fun."
And Bookeo's customers are now starting to reap the benefits: "The ability to import my LivingSocial voucher codes into Bookeo so customers can book classes online saved me many hours and headaches, and it made the process so easy for my customers. Bookeo's Facebook integration also perfectly aligns with my primary marketing strategy - customers can immediately share bookings on Facebook and help spread the word about my business" says Ed Keegan, principal of RhythmConnect, a music school that uses Bookeo to let students book classes and private lessons.
The marketing landscape has changed dramatically with the advent of social networks. There are many new opportunities to reach more customers, and businesses are only now starting to embrace the revolution. Bookeo helps them with tools that are effective and easy to use.
About Bookeo
With customers in 50 countries, Bookeo provides online booking and marketing tools for small and medium sized businesses. Bookeo offers three different products. Bookeo Tours and Activities is designed for guided tour companies and providers of outdoor activities Bookeo Classes and Courses is geared towards teachers and schools that want to manage their class scheduling and enrollments. Bookeo Appointments is designed for consultants and therapists that take individual appointments. All products share the same goal: to simplify online bookings and payments for businesses, and help them grow their revenue by effectively using social and viral marketing such as "deal of the day" promotions. Bookeo's customers include beauty and health therapists, consultants, teachers and schools, gyms, tour operators, and many other types of business that take appointments from their customers. For more information visit http://www.bookeo.com/.
###