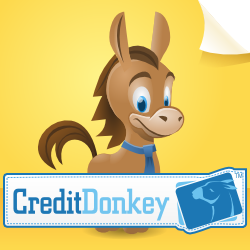 Between the bonus points and their regular points accrual, they are able to add cash back to their wallets
(PRWEB) July 26, 2011
CreditDonkey released its top credit card picks this week, based on bonus reward points. With hundreds of rewards credit card offers available to consumers today, CreditDonkey sifts through the offers to help consumers cut down on the necessary research time to find the cards that offer them the best deals.
Introductory Bonus Point Deals:

Looking at the bonus points features of the four credit card picks above, consumers are reminded that not all cards are created equal. Between the bonus points, extra point accrual on certain purchases and fee structures, there are many features for future cardholders to take into consideration.
"Individuals who are able to responsibly use their credit cards can really benefit from choosing to use one of these credit cards as their primary payment option," says Charles Tran, founder of CreditDonkey. "They essentially are paying themselves for their responsible credit usage. Between the bonus points and their regular points accrual, they are able to add cash back to their wallets."
And Tran reminds consumers that an annual fee shouldn't necessarily be a deal breaker.
"Before you let an annual fee turn you off from a card, you should take the time to look at all of the card benefits," says Tran. "As long as you are utilizing your credit card to make purchases you would normally make, earning a complimentary plane ticket on an annual basis and hundreds of dollars worth of bonus rewards makes the annual fee more than pay for itself."
About CreditDonkey
CreditDonkey is a credit card comparison site that publishes credit card research, informed opinions and related news/trends that empower American consumers to make informed credit decisions. Use CreditDonkey and save time and money. Visit CreditDonkey for more information on credit card bonus point deals.
###