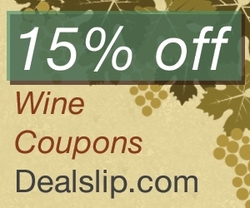 "these exclusive wine coupons are right in time for Mother's Day shopping and the promotions we publish are current and give consumers the best savings possible"
Venice, CA (PRWEB) April 1, 2010
The Dealslip team has partnered with some of the top wine merchants on the net to bring the best discount coupons for wines to one new and accessible site at http://www.dealslip.com/wine. Ever responsive to the wants and needs of today's online consumers, the folks at Dealslip are committed to simplifying the online marketplace by displaying the best Mother's Day discount coupons from merchants in a clear, user-friendly format -- and this specialized site is no exception.
Aficionados of fine wines and casual drinkers alike will be drawn to this Dealslip-powered site for its fun, simple design and extensive merchant partnerships. In addition to handpicking the hottest coupons and most exclusive savings offers, dealslip.com/wine showcases top picks for wines, complete with in-depth descriptions and some of the best savings available anywhere online.
Dealslip is just one of many internet ventures created by 58Phases -- an online marketing company committed to creating and implementing new affiliate web tools -- all with one simple aim: to make the online marketplace easier to navigate. CEO and co-founder Cj Sanders says of Dealslip that "the promotions we publish are current and give consumers the best savings possible." Couple that with their clean and intuitive interface, and it's no surprise that Dealslip has enjoyed the kind of success it has.
Dealslip's newest addition, in the form of one-stop online shopping for wines, is poised to become the next top free wine destination on the net. Their team has established exclusive wine discount coupons from popular wine merchants Wine.com, MyWinesDirect.com, and many more. Picking out which bottle you want to enjoy next has never been easier -- or more enjoyable. The savings are just icing on the cake.
###