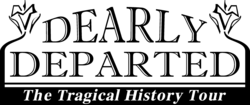 If you love the macabre, come to Los Angeles to meet like-minded new friends, tour amazing places and hear fascinating people speak about horrible things.
Los Angeles, CA (PRWEB) August 31, 2012
Dearly Departed Tours, LA's boutique tour company offering signature tours based on scandals and untimely deaths, will host the 1st Annual Dearly Departed Weekend, October 5-7, 2012.
The weekend will include presentations by Craig Harvey (Chief Coroner Investigator & Chief of Operations Los Angeles County Department of Coroner), Scott Michaels (filmmaker, Six Degrees of Helter Skelter; author, Rocky Horror: From Concept to Cult) and Mark Masek, (author, Hollywood Remains to be Seen).
Historical, guided tours will include a trip the epicenter of California's 2nd greatest loss-of-life disaster: the St. Francis Dam. One of the worst civil engineering failures of the 20th century, the dam burst in 1928 killing more than 500 people and destroying the reputation of LA mogul, William Mulholland. Also included is a trip Pasadena's "Suicide Bridge". Reportedly haunted, over 100 people have died at this site since 1919. Hollywood scandal sites are also a part of the weekend including visits to where River Phoenix overdosed, the Menendez Brothers murdered their parents, Lana Turner's gangster boyfriend was mysteriously stabbed to death and Bugsy Seigal was executed.
Friday night cocktails at the historic Union Theater in the West Adams district and Saturday night dinner at the Mountain View Mausoleum are included. Saturday night will feature a silent auction; funds raised will be used to mark the grave of an unmarked Hollywood celebrity.
Space is limited. Multiple package types are available. For package details and availablity visit: http://www.ddtweekend.com
Contact
Scott Michaels
1.323.466.3696
scott(at)dearlydepartedtours(dot)com
###
Dearly Departed Tours provides unique, custom tours specializing in scandal and murder in Los Angeles. Owner, Scott Michaels is a sought out expert on the macabre history Los Angeles, including celebrity scandal and the filmmaker behind The 6 Degrees of Helter Skelter. Scott has been featured on Entertainment Tonight, Anthony Bourdain's The Layover, Lonely Planet, NBC Nightly News, CNN's AC360, The Los Angeles Times, The London Times, Australian News, and The Girls Next Door. For more information, go to: http://www.dearlydepartedtours.com/