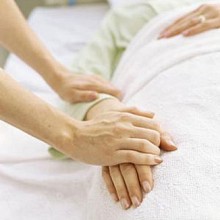 Too often people who are dying are left alone to die.
South Burlington, VT (PRWEB) February 10, 2012
Josh Patrick believes that many times we're uncomfortable talking to those who are dying or even talking to family members who have a loved one who's dying.
Talking about death is a good thing. It's good for those who are going through the experience and it's good for those talking about it.
Too often people who are dying are left alone to die. No one ever utters the word death in their presence. Those who are dying know they're dying. They might even enjoy having a conversation about what they're going through. You might learn something useful.
Here are some things you might want to think about when dealing with death:
1. We're all going to go through it someday so you might as well come to grips with that truth.
2. Death is a different experience for all of us. Patrick has read and seen that when people are ready to die they will often start conversations with those that we can't see.
3. Death with dignity is an important thing. When we talk with those who are dying about their situation we show respect and allow them to leave this world feeling understood.
4. When talking with family members who have a loved one dying speaking about the situation openly and honestly from the heart is often greatly appreciated.
5. You might find that when you talk with someone about their death that is close you feel a release yourself.
6. Being honest and open when talking to people who are dying or family members allows you to feel more human.
Patrick believes death is a difficult topic. He believes one of the reasons this is true is because of our own mortality.
Josh Patrick is the founding Principal at Stage 2 Planning Partners. He specializes in working with owners of privately held businesses on a variety of strategic issues that are designed to be value drivers of the business. He is the originator of The Objective Review, a comprehensive survey of wealth management areas a private business has in their business and life.
###