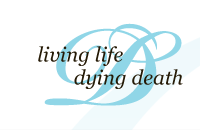 Scottsdale, AZ (PRWEB) April 26, 2011
Newly-released book, Living Life Dying Death: A Guide to Healthy Conversations about Death and Dying to Inspire Life and Living by Jennifer Collins Taylor, MSW, encourages readers to have meaningful conversations about death and dying with family, friends, and loved ones. An accessible guide, the book allows readers to explore their personal thanatology (the study of death and dying) and philosophy of life.
"Openly discussing one's thoughts and feelings about death and dying greatly enhances life and living for both healthy individuals and the terminally ill," says Taylor, who drew from personal loss, as well as years of experience in hospice care and as a certified music practitioner. "When we treat death and dying as a taboo subject, we wall-off an important part of ourselves from those we love and those who love and care about us. We are better understood and make informed decisions about critical end-of-life directives, such as financial and healthcare, when we have deeply personal conversations with others."
Living Life Dying Death's reflective topics include: compassion, dreams, fear, goodbye, gratitude, grief, honesty, hope, humor, joy, mystery, pain, patience, peacefulness, philosophy of life, relationships, and many more. Most importantly, her work encourages spoken words of love and care in each conversation and emphasizes, "the words of the conversation may be forgotten, but love remains."
In addition to the book, Taylor created the Mourning Bracelet for times of grief, loss, and remembrance. Her instrumental harp CD, Life Beyond Words allows the listener to relax, dream, and find comfort in an atmosphere of peacefulness. All items are available on the website http://www.livinglifedyingdeath.com.
Originally from Iowa, Taylor now lives in Arizona. She is available for presentations. Living Life Dying Death is available in hardcover, softbound, and as an eBook. For more information, or to schedule Taylor, visit http://www.livinglifedyingdeath.com, call 480-201-5697, or email jennifer(at)livinglifedyingdeath(dot)com.
###