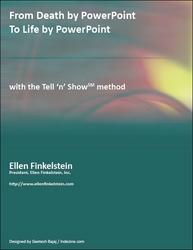 "Death by PowerPoint is not necessary. Anyone can create an effective presentation with a little knowledge and attention. Maybe audiences need to step forward and take action."
Fairfield, IA (PRWEB) December 2, 2009
A new worldwide Campaign Against Death by PowerPoint aims to improve presentation skills and give audiences some relief from their suffering. As of today, comatose audience members can start fighting back by giving presenters an invitation to download a free white paper, "From Death by PowerPoint to Life by PowerPoint with the Tell 'n' Show(SM) Method" by author Ellen Finkelstein. The invitation is a one-page download available at http://www.tellnshow.com.
The white paper includes many experiences of Death by PowerPoint from a survey conducted by Finkelstein, which she found both depressing and funny. "Death by PowerPoint is not necessary. Anyone can create an effective presentation with a little knowledge and attention. Maybe audiences need to step forward and take action," says Finkelstein.
The free white paper is a mini-course, bringing presenters through the steps to convert Death by PowerPoint to Life by PowerPoint. The white paper covers "death" in three areas: 1) content, 2) design, and 3) delivery, illuminating what doesn't work. Then it revisits those three areas and explains how to create "life." A final summary of takeaways gives presenters a quick blueprint of what to do and what not to do.
Here's how to help end Death by PowerPoint:
1) Go to http://www.tellnshow.com.
2) Download the invitation, which invites the presenter to get the free white paper.
3) Print the invitation and take it to a presentation.
4) If the presenter commits Death by PowerPoint, give the presenter the invitation.
Note: Audience members don't have to print out the invitation. They can give the presenter the URL of the white paper in any way they want, and can also download it for themselves. The URL is http://www.tellnshow.com/whitepaper.html.
About Ellen Finkelstein
Ellen Finkelstein is the author of numerous popular books, including How to Do Everything with PowerPoint 2007, PowerPoint for Teachers: Dynamic Presentations and Interactive Classroom Projects, and 101 Advanced Techniques Every PowerPoint User Should Know. Her website, http://www.ellenfinkelstein.com, has been offering free PowerPoint tips for years. She created her new website, http://www.tellnshow.com, for the Campaign Against Death by PowerPoint.
###