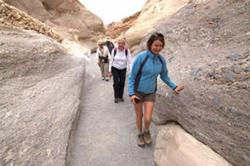 Death Valley is a prime candidate for small group guided tours.
Las Vegas, NV (PRWEB) November 28, 2012
Naturalist Journeys, a top nature and adventure tour company, is proud to announce their upcoming March 24-29, 2013, guided tour of Death Valley National Park. Death Valley is known not just for spectacular wildflower displays but also for geology, birding, wildlife-watching and hiking. Greg Smith, an accomplished travel photographer and nature and adventure guide, will lead this intriguing guided tour of Death Valley National Park.
"Death Valley is a prime candidate for small group guided tours," explained Peg Abbott, owner of the Naturalist Journeys. "For many people, a guided tour experience of Death Valley eliminates the need to weigh out whether a washboard dirt road leading off to a homestead or natural feature is worth the drive, or if a given hike merits the effort. Hikers and or nature enthusiasts will get so much out of a small group guided tour of Death Valley and its natural wonders."
For more information, go to

Description of Naturalist Journeys' Guided Tour of Death Valley
Nearly 1,000 different species of plants have been recorded in the diverse habitats of the Death Valley, including 19 species of cacti and 23 species endemic to the park. More than 380 springs in the park provide habitat to five species of Desert Pupfish, relic populations from a wetter time in the region's long history. The valley is a geologist's paradise, with nearly two billion years of history recorded in the rocks. Layers of sandstone and limestone tell of times of great inland seas while volcanic features bear testimony to centuries of dynamic change. Learn these stories as we hike some of the park's most popular trails, and some favorites where we see few other visitors.
Walk amid sand dunes, water-sculpted canyons and salt pans remaining from ancient seas, lush hidden springs and cool mountain forests. Those interested in wildlife-watching via a guided Death Valley tour experience can look for Ring-tailed Cats, Kit Foxes, Kangaroo Rats, Black-tailed Jackrabbits, and Desert Bighorn Sheep. Those interested in birdwatching can listen for sounds of desert birds in the clear morning air: Gambel's Quail, Rock Wrens, Western Kingbirds, phoebes, and flycatchers. Photographic opportunities abound for those looking for a guided photo tour of Death Valley, particularly in the magical, subtle light of dawn and dusk. Blue skies frame the rugged Panamint Mountains of Death Valley, a sister range to the Sierras that reaches over 11,000 feet. On the mountain slopes ancient bristlecone pines cling to windy ridges and Desert Bighorns find refuge from heat.
About Naturalist Journeys, a Top Nature and Adventure Tour Company
Naturalist Journeys specializes in small group birding tours and natural history tours of key sites across North and South America and around the world. The company's expert guides lead participants on intimate small group tour journeys for bird-watching, animal-watching and other forms of eco-tourism. Naturalist Journeys is a small adventure travel company that puts people, places and remarkable experiences together. Their style of environmental tourism focuses on nature -- specifically birdwatching, natural history, geology and geography.
Naturalist Journeys
http://www.naturalistjourneys.com/
Tel. 520-558-1146