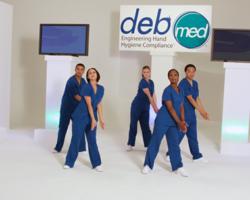 One of Deb Group's top priorities is to provide unique solutions that help reduce HAI's. Our new rap, in combination with the DebMed®GMS, can be used as part of a hospital's tool kit to promote and improve and hand hygiene among staff.
Baltimore, MD (PRWEB) June 27, 2011
Paul Alper of Deb Group wants you to know there is only one version of Deb Group's new rap music video – the clean one. This is appropriate for a company that provides innovative hand hygiene products and dispensing systems worldwide.
Alper is the Vice President of Strategy and Development at Deb Worldwide Healthcare (a Deb Group company) and also takes the songwriter credit for "The WHO 5," a fun and instructive music video outlining the importance of hospitals following the World Health Organization's (WHO) Five Moments for Hand Hygiene.
Designed to be used as an innovative, contemporary and dynamic training tool to educate hospital staff and other healthcare workers about the WHO five essential hand hygiene "moments" or opportunities, the rap highlights Deb Group's commitment to help prevent healthcare-associated infections (HAIs) through better and more consistent hand hygiene.
"As someone who works in a hospital and is concerned about hand hygiene on a daily basis, I'm excited about integrating this video into our staff trainings. The rap has been very popular so far – in fact, you could say it's topping the Greenville Hospital charts," said Tom Diller, M.D., Vice President of Quality and Patient Safety at Greenville Hospital System (GHS).
HAIs are preventable, and occur in the United States an estimated 2.0 million times per year causing nearly 100,000 fatalities, making it one of the leading causes of death behind cardiovascular disease and cancer. Healthcare providers have understood the importance of hand hygiene since 1847 when Ignaz Semmelweis proved the connection between hand washing and the reduction of deaths from childbed (puerperal) fever. Its importance is without question; yet 164 years later hand hygiene compliance, and resulting HAIs, remain a huge problem.
The Five Moments (when hands should be washed or sanitized) for Hand Hygiene, rapped about in Deb Group's "The WHO 5" music video are:

Before patient contact;
Before an aseptic task;
After body fluid exposure risk;
After patient contact; and
After contact with patient surroundings.
The dancers in the video demonstrate proper technique for each of the five moments and were trained during rehearsals on how to perform them by real life infection preventionist Sue Boeker from the Greenville Hospital System of Greenville, SC.
Further demonstrating a commitment to front line infection preventionists and quality professionals, Deb Group also launched the DebMed®GMS™ (Group Monitoring System) in March 2011 - the world's first group monitoring system to report hand hygiene compliance rates in real-time based on the World Health Organization Guidelines. The stand-alone system can be installed in any hospital, provides 24/7 access to compliance rates; comes with a multi-modal improvement tool kit and requires no capital investment. An annual subscription fee covers all costs including installation as well as maintenance and repairs.
"One of Deb Group's top priorities is to provide unique solutions that help reduce HAI's," said Alper. "Our new rap, in combination with the DebMed®GMS, can be used as part of a hospital's tool kit to promote and improve and hand hygiene among staff. We like to think of it as using music, dance and science to help fight HAIs."
To view "The WHO 5" music video, please visit Deb Group's YouTube video at http://youtu.be/GGfWUf97VHg.
Hospitals within the United States can learn how to obtain the DebMed®GMS™, by calling 866-783-0422, or emailing info(at)debmed(dot)com. More information on the entire DebMed program can be found at http://www.debmed.com.
Related Links:
Deb Group
DebMed
World Health Organization
5 Moments for Hand Hygiene
For More Information
Banks Willis
202-577-5847
b(dot)willis(at)togorun(dot)net
About Deb Group
Deb Group is a leading global away from home skin care company, providing innovative hand hygiene products, dispensing systems and tools to support hand hygiene compliance. Possessing international scale and strong local market presence, Deb Group provides innovative skin care programs for all types of workplace and public environments, spanning industrial, commercial, healthcare and food sectors. Headquartered in the United Kingdom with its US operations based in Stanley, NC, Deb Group comprises 21 companies operating in 16 countries. For more information from Deb Group, visit http://www.debgroup.com.
# # #