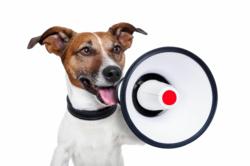 This has been an eye opener, and I will be much more cautious in what I feed my furry pals!
Boca Raton, FL (PRWEB) October 05, 2012
Much of America tuned in to watch the Presidential Debates in Denver on Wednesday night. While President Barack Obama and Governor Mitt Romney discussed the issues of healthcare and tax reform, Dogington Post focused on matters that most concern its dog-loving followers.
In the weeks leading up to the debate, the popular dog news site met with many pet food manufacturers in an effort to address how these companies are changing to meet the demands of pet-owning consumers in an industry plagued with recalls.
Dogington Post published their findings in an exclusive report that was released on Wednesday morning. The site made the report available as a free download to anyone who registers at http://dogingtonpost.com/state-of-dog-food-today/.
"So far the feedback has been really great," said Brandy Arnold, Content Editor for Dogington Post. "Our readers are thanking us for the invaluable information contained in the report. Many are telling us they'll be changing dog food brands based on the education we provided."
In addition to spelling out many ways Dogington Post learned that the pet food industry is changing, the report also offers suggestions to consumers on how to choose a dog food brand they can feel comfortable feeding their pets.
The report also provided consumers with resources and contact information for major retailers in order to ask them to remove dangerous Chinese chicken jerky treats from their shelves. The site encouraged readers to continue to demand improvement in the industry to effect more change.
One Dogington Post reader commented, "This has been an eye opener, and I will be much more cautious in what I feed my furry pals! Thank you!"
Another reader commented about one of the topics in the report, "I was shocked! How can they get away with that? I just can't comprehend it. Disgusting!"
Dogington Post reaches over 2.6 million dog lovers each week. In an effort to help raise awareness of the important information contained within the Dogington Post's special report, entitled "The State of Dog Food Today", the site is holding a contest for those who download and read it. One random winner will receive an Amazon Kindle Fire, valued at $297.
To find out more about Dogington Post and their exclusive report, "The State of Dog Food Today," visit http://dogingtonpost.com.
About Dogington Post:
DogingtonPost.com was created for the love of dogs. It promises a forum of informative articles, newsworthy dog stories, health and breed information, and heartwarming videos. The site addresses current issues affecting dogs and their human parents – from serious health concerns to lifestyle issues on feeding, grooming and the overall well-being and mental health of dogs. It is the Internet newspaper, all about dogs.