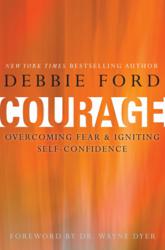 "In this insightful book, my friend and colleague Debbie Ford has detailed a very inspiring and pragmatic blueprint for living a courageous life…"
- Wayne Dyer in the Foreword to COURAGE
San Francisco, CA (PRWEB) April 24, 2012
New York Times bestselling author Debbie Ford begins her most personal, powerful, and practical work to date sharing how she was confronted by her own fears upon a grave cancer diagnosis. The process she undertook to overcome her insecurity and fear and unlock the courage that resided within her all along serve as the foundation for her latest book COURAGE: Overcoming Fear and Igniting Self Confidence (HarperOne; April 24, 2012; Hardcover & eBook).
COURAGE is focused on transforming fear, unworthiness, insecurity and powerlessness into courage, confidence and emotional freedom. In the book, Debbie Ford reveals a transformational process to gain confidence, harness power, and live in full self-expression.
COURAGE will help the reader:

Discover how to accept and transform flaws, misgivings, weaknesses, and fears.
Learn how to be confident, stand in strength, and feel great about life.
Activate the seven guiding principles of courage to become strong, powerful, confident and courageous.
Open up to a whole new self-image, tapping into the power to accomplish anything.
In identifying how she brought her own courage to the surface, Debbie Ford writes: "No excuses could absolve me from the need to see that this was something I had to deal with. No layers of denial could shield me from the reality that if I didn't make a radical shift, the stress was going to kill me—literally—because it had already taken my energy, my joy, and my happiness away from me." Only from this point of surrender and acceptance can one begin the journey to emotional freedom, a loving heart, and inspired vision that will activate the confidence and courage inside.
About the Author:
Debbie Ford has been helping people break free from the emotional baggage that holds them hostage and discover self-confidence and authentic self-expression. She is the national bestselling author of Dark Side of the Light Chasers, Secret of the Shadow, Spiritual Divorce, The Right Questions, The Best Year of Your Life, Why Good People Do Bad Things, and The 21-Day Consciousness Cleanse, and the coauthor of The Shadow Effect. She conducts workshops and trainings around the world supporting lifelong personal, spiritual, and emotional education and transformation. She lives in San Diego with her son. Visit the author at http://www.debbieford.com.
Praise for Debbie Ford
"Debbie Ford is a terrifyingly dynamic life coach who could coax a storm cloud into purging itself of unhealthy tendencies toward lightning and thunder." - People Magazine
"The clarity with which Debbie Ford communicates has inspired, comforted, and fueled me to continue growing and aligning myself with my life purpose. I am forever grateful to her for sharing her compassionate wisdom in the ways she has." - Alanis Morissette, Grammy-winning singer/songwriter
"Debbie Ford systematically outlines the process to wholeness and transformation." - Deepak Chopra
"Debbie Ford guides us past the self-punishing patterns that often bind us. Her ideas are exceptionally compelling." - Marianne Williamson, author of A Return to Love
"Debbie Ford teaches us to recognize, embrace, and ultimately love all aspects of ourselves." - Dean Ornish, M.D.
COURAGE
Overcoming Fear and Igniting Self Confidence
By Debbie Ford
On-sale: April 24,2012
Available in Hardcover and EBook