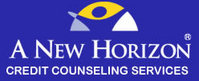 The most notable variation of this fraud that we've seen has been what's known as skimming.
Fort Lauderdale, FL (Vocus) July 26, 2010
Consumers are increasingly using debit cards to make purchases, and criminals have taken notice. Credit card scammers have entered the realm of the debit card, and incidences of fraud are becoming more common place. A New Horizon Credit Counseling, a nonprofit credit counseling firm, has been advising its clients on ways to avoid becoming ensnared.
Steven Stark, Chief Operating Officer of A New Horizon, comments that "The most notable variation of this fraud that we've seen has been what's known as skimming." Skimming, a form of ATM fraud, allows a criminal to steal a consumer's card number and PIN code – everything needed to effectively empty the victim's bank account. The criminal accomplishes this virtual heist by attaching a small front piece to the ATM's card reader, which electronically records the card number of any unsuspecting customer. The PIN code is stolen via a small, hidden camera placed by the scammer.
With nearly 2 million ATM machines in operation worldwide, criminals have a wide array of potential targets. The losses due to fraud are expected to continue rising as the crimes, and their perpetrators, become more sophisticated. According to the Nilson Report, losses due to fraud involving credit and debit cards rose 7 percent between 2008 and 2009. That number is expected to total $10 billion by 2015.
According to Stark, there are steps consumers can take to prevent debit card fraud. "All consumers should integrate fraud deterrence practices into their banking habits," says Stark. He recommends using only ATMs physically located inside banks, where it is much more difficult for a criminal to install the skimming hardware. Additionally, consumers should cover the keypad with their other hand when entering their PIN, to prevent any prying eyes from recording the code. Experts also stress that consumers should check their statements and balances often and thoroughly
A New Horizon Credit Counseling has free educational material available for consumers wishing to learn more about debit card fraud and how to combat it. Those interested in obtaining this material should contact A New Horizon.
A New Horizon Credit Counseling Services is a nonprofit credit counseling organization that has been helping consumers since 1978. For more information about their debt consolidation programs, contact 1-800-556-1548. They can also be found on the web at http://www.anewhorizon.org, or reached via email at slieberman(at)anewhorizon(dot)org
###