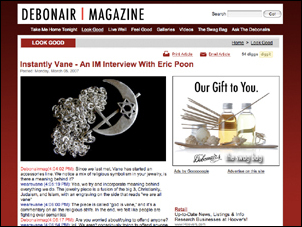 Catering to a young male demographic requires a publication to maintain a hip factor, as well as a social relevancy
New York, NY (PRWEB) March 7, 2007
Debonair Magazine is now offering its readers "instant" gratification by conducting interviews via AOL's Instant Messenger software. "Catering to a young male demographic requires a publication to maintain a hip factor, as well as a social relevancy," says Creative Director John DeFeo. "The overwhelming popularity of AOL's IM software provides Debonair with the perfect tool to engage our readers while maintaining a journalistic standard."
Founded by Edward Hertzman and John DeFeo in 2004, Debonair Magazine began as a campus newsletter at New York University. Dissatisfied with the standard of living in Manhattan, Hertzman, then student and bartender - set out to provide his peers with the information and resources needed to improve their lifestyles, regardless of income. Partnering with DeFeo, an accomplished photographer and designer, the duo ultimately expanded their initial "newsletter" concept into an autonomous Internet publication - http://www.debonairmag.com.
Hertzman and DeFeo have not abandoned their roots, continuing to print several thousand newsletters distributed in Manhattan; however, their primary business model has expanded to the World Wide Web. "When I started Debonair from a dorm room, my only concern was helping my friends and those closest to me. But, after seeing the power and immediacy of online media, I was inspired to take the message even further. Living a better life is a ubiquitous concept," says Hertzman, "and my partners and I will continue to embrace any technology that can spread the Debonair lifestyle."
Debonair Magazine currently features an "IM Interview" with the Creative Director of Vane Lifestyle, an up-and-coming brand of New York street wear. Users will find the interview splashed with the familiar color palette and timestamp of AOL's Instant Messenger. "So far, the response to the IM interview has been extremely positive," says DeFeo. "Our users always welcome a respite from the norm, and we'll keep seeking creative ways to satisfy that want."
For additional information on the Debonair's IM Interviewing visit http://www.debonairmag.com/article3.asp?rec_id=1000210&dept_id=100019. Debonair Magazine is a publication of Hertzman Media Group, LLC.
Contact:
John DeFeo
Hertzman Media Group, LLC
T. 212-748-9400
F. 212-239-7787
###