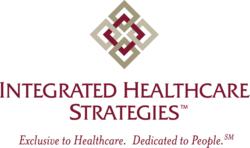 Debbie Weber is a strong strategic and operational professional with a long history of providing creative solutions to help clients become more successful
Kansas City, MO (PRWEB) May 07, 2012
Integrated Healthcare Strategies, a healthcare human resource and compensation consulting firm with offices in Kansas City, Minneapolis, Dallas and Palm Beach, is pleased to announce that Debbie Weber will join the firm as Vice President in the HR Consulting service line. Ms. Weber has worked with for-profit, not-for-profit, adult and pediatric healthcare organizations for over 20 years. Ms. Weber's proven consulting skills will serve as a strong resource for the firm's clients' human resources needs.
Ms. Weber was the owner and principal consultant of a successful human resources consulting firm and has held top positions at a large pediatric regional teaching and research facility, as well as with a nationally recognized healthcare solutions firm. Ms. Weber has co-authored a number of professional publications for ASHHRA (American Society for Healthcare Human Resources Administration), and is a frequently requested speaker on a number of human resources topics. She holds a BA in Education from the University of Florida.
Terry Hobbs, Executive Vice President and leader of the HR Consulting service line, commented on the hiring of Ms. Weber, "Debbie Weber is a strong strategic and operational professional with a long history of providing creative solutions to help clients become more successful. We are extremely fortunate to have a person of Debbie's caliber join our firm. She brings extensive insights on issues that healthcare executives are facing today."
To contact Debbie Weber or to learn more about Integrated Healthcare Strategies, please see more information online at http://www.IHStrategies.com
About Integrated Healthcare Strategies
Integrated Healthcare Strategies provides healthcare organizations with direct access to a comprehensive array of healthcare-specific services, delivered by professionals from the industry who understand the rigors of running a healthcare organization – from the lunchroom to the Board Room. Its client list is a "who's who" of healthcare organizations including over 1,200 major healthcare providers, 1,800 hospitals and 700 independent and affiliated medical groups. Integrated Healthcare Strategies specializes in the areas of physician strategy and compensation, employee compensation, executive compensation, human resource solutions, labor relations, leadership transition planning, executive search, compensation and employee engagement surveys, performance management, board governance solutions, and M&A transition issues. For additional information contact Julie McCauley at 800-327-9335 or at julie.mccauley(at)IHStrategies(dot)com. Visit Integrated Healthcare Strategies online at http://www.IHStrategies.com, or view our blog at http://ihstrategiesblog.com.
# # #