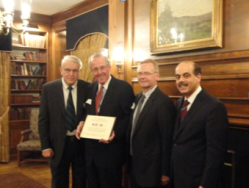 Milwaukee, WI (Vocus/PRWEB) November 30, 2010
Kohner, Mann & Kailas, S.C., which is located in Milwaukee, WI, is pleased to announce that shareholder Robert L. Gegios and Wisconsin Fellows of the American Bar Foundation Co-Chair Harry Holz, hosted a Wisconsin Fellows Reception at the University Club of Milwaukee on October 21, 2010. This year's reception honored G. Lane Ware for his contributions to the Bar and to the ideals championed by the American Bar Foundation.
The American Bar Foundation (ABF) was founded in 1952 and is recognized as the premier research institute for the empirical study of law in the United States. Among its research faculty are such notables as James Heckman, 2000 Nobel Prize winner in Economic Sciences; Austan Goolsbee, Chair of the President's Council of Economic Advisors; Shari Diamond, who is generating important research on how juries actually work through a truly unique dataset on actual civil jury trials; Steven Levitt, whose bestseller, Freakonomics, reports on a broad range of innovative research that was supported by the ABF; and John Hagan, who received the Stockholm Prize in Criminology for his groundbreaking work on the genocides in the Balkans and Darfur.
ABF membership is limited to one third of one percent of the lawyers in America and is extended, by invitation only, to those recognized as having demonstrated leadership in and contribution to the legal profession as a whole. For more information on the ABF and its work, visit http://www.americanbarfoundation.org.
About Kohner, Mann & Kailas, S.C. (KMKSC):
Founded in 1937, KMKSC is a business and commercial law firm listed in Martindale-Hubbell's Bar Register of Preeminent Lawyers. KMKSC provides quality legal expertise across the areas of law encountered by businesses in the course of their operations and growth. The firm's services range from high-profile appellate representation and international business issues to ensuring that critical everyday needs, such as debt recovery, are fulfilled efficiently and expertly. KMKSC's purpose is to deliver excellent results for clients, whether the issue is advice on the avoidance of legal disputes, closing a transaction, protecting assets or winning in court. KMKSC is continually advancing the interests of its clients in negotiations, transactions, litigation and alternative dispute forums across North American and beyond. The firm helps U.S. companies address the legal issues raised by trading across international borders and provide legal support and advice to foreign companies operating in American markets.
# # #