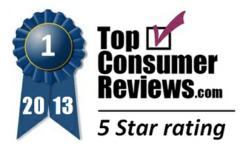 Each year TopConsumerReviews.com carefully analyzes the nation's leading debt relief companies to determine who ranks among the best.
Overland Park, KS (PRWEB) February 22, 2013
TopConsumerReviews.com recently announced that CuraDebt and American Debt Enders made their list of top debt relief companies.
TopConsumerReviews.com provides independent reviews for thousands of products, including debt relief programs, in order to help consumers make better informed decisions.
Each year TopConsumerReviews.com carefully analyzes the nation's leading debt relief companies to determine who ranks among the best. That ranking is determined using key indicators in customer satisfaction. Several companies were set side-by-side and factors such as quality, value and customer service were compared.
Brian Dolezal of TopConsumerReviews.com explains, "When identifying the top debt relief companies each year we take the time to analyze several debt relief programs during the process. We look for those companies that have a history of providing a solid service for those struggling with overwhelming debt. Finances are a delicate matter and finding the right debt relief company is imperative to feeling confident during the process. We know the decision is ultimately up to the customer, but we hope our reviews add value in their decision making."
CuraDebt, in business since 1996, has a long history of helping people overcome their debt problems. CuraDebt offers a wide array of services including debt consolidation, debt management, consumer credit counseling and tax relief. They are experts in the field of debt relief and provide customers a free, no obligation, consultation to best identify their financial situation. Throughout the process, the CuraDebt's counselors will periodically contact their client to keep them apprised of their progress and where they stand with helping to eliminate their debt. CuraDebt focuses on financial solutions for unsecured loans that are $10,000 or greater.
American Debt Enders offers free credit counseling, as well as, debt settlement, debt consolidation and credit repair services for those needing assistance with unsecured debt totaling $5,000 or greater. In business since 2007, American Debt Enders debt settlement program is FTC (Federal Trade Commission) approved and very straightforward. The American Debt Enders debt settlement program involves negotiating with creditors and then immediately paying off those lesser amounts via a loan from a 3rd party lender. The customer then makes budget friendly payments. American Debt Enders provides online access to allow customer to monitor the debt settlement process.
To find out more about debt relief companies, including reviews and comparison rankings, please visit the Debt Relief Programs category of TopConsumerReviews.com at http://www.topconsumerreviews.com/debt-relief/.
About TopConsumerReviews.com
TopConsumerReviews.com, LLC is a leading provider of independent reviews and rankings for thousands of consumer products and services. They offer the latest on Debt Relief including information, education, and ratings for the best debt relief programs available today.