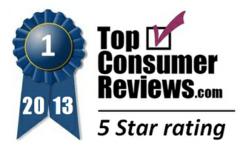 Each year, TopConsumerReviews.com dives deep into comparing and contrasting several debt relief companies for the convenience of our customers.
Overland Park, KS (PRWEB) February 16, 2013
TopConsumerReviews.com recently revealed the top affordable debt relief companies for this year. TopConsumerReviews.com provides independent reviews for thousands of products, including debt relief programs, in order to help consumers make better informed decisions.
With millions of Americans deep in debt, many people are on edge. Making only the minimum payment each month means most of us are stuck in a credit card cycle. For those looking for an affordable debt reduction solution, services exist today that are not only effective but easy on the budget.
Not every consumer, heavy in debt, is in need of traditional debt settlement services. For those that still have the means to make the minimum payments but want to pay down debt as fast as possible, options exist specific for these types of individuals. They bring customer friendly websites as a tool to help organize and identify which creditors to pay off first . The ultimate result is getting out of debt the fastest method possible, without the use of debt settlement services.
Brian Dolezal of TopConsumerReviews.com explains, "Each year, TopConsumerReviews.com dives deep into comparing and contrasting several debt relief companies for the convenience of our customers. We know that with millions of Americans in debt, financial struggles are at the forefront of many people's minds. But which companies offer affordable solutions? Several debt relief companies compete for business each year, for those looking to save on expenses affordable solutions exist."
SavvyMoney is much different than the typical debt relief company in their approach. Via a monthly subscription fee, Savvy Money educates and assists consumers with a variety of financial challenges. SavvyMoney takes the personal information of each customer and builds a customized plan to help reduce debt and save significantly on interest costs. This strategic approach allows customers to take control of their spending and financial future.
Ready for Zero is an affordable do-it-yourself tool that helps people get out of debt in the fastest method possible - without the use of traditional debt settlement or consolidation services. Ready for Zero uses the logic that the highest rate loans should be paid off first to save customers hundreds and even thousands of dollars in interest charges. After each creditor is paid off, Ready for Zero helps customers strategically direct those extra payments to the next creditor. With the use of Ready for Zero's services, consumers find they are able to climb out of debt much sooner.
To find out more about debt relief companies, including reviews and comparison rankings, please visit the Debt Relief Programs category of TopConsumerReviews.com at http://www.topconsumerreviews.com/debt-relief/.
About TopConsumerReviews.com
TopConsumerReviews.com, LLC is a leading provider of independent reviews and rankings for thousands of consumer products and services. They offer the latest on debt relief companies including information, education, and ratings for the best debt relief programs available today.