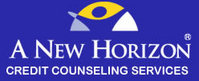 There are many legitimate debt settlement companies out there that have never charged upfront fees
Ft. Lauderdale, FL (Vocus) September 27, 2010
Countless Americans struggling with credit card debt have been seduced by the slick advertisements for debt settlement companies for years. Now, new rules instituted by the Federal Trade Commission next month will help to curb the predatory and unscrupulous elements of the industry, according to A New Horizon Credit Counseling Services, a nonprofit credit counseling agency.
Some debt settlement companies have come under fire for taking large upfront fees, doing little and refusing to make refunds to consumers. The new Telemarketing Sales Rule implemented by the FTC will make these fees a relic of the past. Debt settlement companies will now be barred from charging advance fees until they successfully renegotiate a client's debt balance. Debt settlement companies will also be required to give consumers more detailed disclosures of the potential negative side effects of debt settlement.
Stephen Marcus, president of A New Horizon Credit Counseling, warns that consumers should be especially wary if they decide to enroll with a debt settlement company in the immediate future. "There are many legitimate debt settlement companies out there that have never charged upfront fees," said Marcus, "but in these coming weeks, I suspect that the unscrupulous companies will attempt to charge consumers outrageous fees before the FTC begins its enforcement." According to Mr. Marcus, many clients have turned to legitimate credit counseling organizations like A New Horizon after being swindled by dishonest companies.
Industry experts recognize that both debt settlement and debt consolidation programs can help consumers, but urge those considering such programs to research the companies before committing. Above all, say experts, consumers should choose organizations with a long history of providing reputable service, and absolutely avoid any company that requires a substantial upfront fee.
The new disclosure requirements will take effect on September 27 and the ban on upfront fees will begin on October 27.
A New Horizon Credit Counseling Services is a nonprofit credit counseling organization that has been helping consumers since 1978. For more information about their programs, contact 1-800-556-1548. They can also be found on the web at http://www.anewhorizon.org, or reached via email at slieberman(at)anewhorizon(dot)org.
###