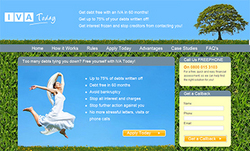 London, UK (PRWEB) April 2, 2009
IVA Today is very pleased to announce that its brand new website is now live and incredibly easy to use.
IVA Today offers an outstanding financial service to those who find themselves with bad debts and are no longer able to cope with repayments and the stress that the situation creates.
With expert assistance, IVA Today is able to take charge of clients' finances, without them having to take out more credit.
Individual Voluntary Agreement is a way forward for anybody who cannot or does not wish to go through a bankruptcy. As long as an applicant is a UK resident, in full time employment, has unsecured debts over £15,000 that are owed to at least 3 different creditors, IVA Today is here to help. Initially all that clients are required to do to find out if an IVA is right for them is submit few details online:
IVA Today provides a call back service and will go over clients' applications with them in order to establish whether an IVA is the right way of dealing with their debts or even offer a different solution to their debt problems.
If a client is eligible for an IVA, proof of employment is required as this will need to be seen by creditors before an IVA is agreed between clients and creditors. Once an agreement is reached it will become a formal legal contract and all creditors' phone calls, visits and letters threatening with a court action will stop. All charges and interest on clients' debts will be stopped and they won't have to deal directly with their creditors again, because IVA Today will deal with them on their behalf instead.
As part of the IVA terms, clients will have to agree to make payments to IVA Today every month, which will then be distributed to all creditors. To make this as easy as possible, payments may be made online, by cheque or by direct debit.
For further information on how the IVA works, as well as FAQ and recent case studies, please visit IVA Today's website at:
An IVA is a great way to avoid bankruptcy and to get one's life back on track and as long as payments have been maintained and a client has kept to their terms of the IVA, then after the agreed period (usually 60 months) no more payments will need to be made and any outstanding debt is written off. Sometimes as much as 75% can be written off and as long as the agreed terms are not breached, clients will be debt free in 5 years.
IVA Today will do the very best to help clients to get back to life as it is meant to be lived.
###