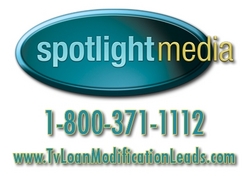 There are many ads running in this arena but Spotlight Media 's owners have a combined 40 years experience in producing commercials and placing media.
Miami, FL (PRWEB) December 8, 2009
Spotlight Media has just launched it's Debt Settlement campaign consisting of it's New TV Debt Commercial and Radio Ad, this campaign is designed to match up consumers with reputable companies to help them eliminate their debt.
Brooklyn NY, Spotlight Media Debt Leads process was able to take a woman's monthly credit card payments and cut them in half and for the first time in years she is actually saving money. Joyce Stevens retained debt settlement services from one of Spotlights reputable Debt Settlement Companies.
Los Angeles, Cal. These Live TV Debt Settlement calls , transferred as live leads has helped a man who if late one time making his credit card payments, the credit card companies jumped on charging him higher rates and fees. Tim Weiss is now getting out of debt for thousands less than he owes and his payment is affordable.
Consumers with credit card debt need help and Spotlight Media has found a way to connect them to Reputable Debt Settlement Companies via Television and Radios.
Consumers are saving thousands even tens of thousands of dollars on their credit card debt, cutting their payments in half and there balance by even more. Consumers can become debt free in 12-48 months by taking advantage of this opportunity. They have one manageable monthly payment with money left over.
Reputable debt settlement companies may purchase these Live TV Debt Leads by receiving these calls live sent directly to them. Call Spotlight Media directly @ 1-800-371-1112 and become part of our elite rotation for Live Premier TV Debt Settlement Leads via Live Transfer.
There are many ads running in this arena but Spotlight Media 's owners have a combined 40 years experience in producing commercials and placing media. They will deliver you the highest quality lead. They know what the consumers and debt settlement companies need and they deliver. Allow us to introduce you to your customers.
Through the power of television Spotlight Media has been able to generate Debt Settlement Companies an extensive pipeline of eligible consumers. These Nationally run Television ads provide exclusivity and a higher closing ratio to companies as we match suitable consumer to reputable firms.
Spotlight Media is looking for a few more select clients to take these calls and can assure delivery of volume. These live television calls are transferred directly to the Debt Settlement Company so they can help as many people as possible as soon as the call comes in. These Nationally advertised TV calls are sent to the debt settlement companies based on the companies criteria. Pricing is competitive.
If you are a reputable Debt Settlement Company check out http://www.tvloanmodificationleads.com/tv-debt-settlement-leads or call us at 1-800-371-1112 so that we may answer any questions you may have.
Now more than ever people need help with their credit card debt. Consumers can and will find help through this Nationally Advertised Commercial.
If a consumer has 20,000 dollars in debt it could take them 36 months in a debt settlement program to become debt free or if they continue down the same path of making monthly minimum payments 36 years.
Spotlight Media has built their reputation on honesty and credibility. If Spotlight Media says they can do something they can and if they can't they will be the first ones to tell you so. This is one marketing company that will not just tell you what you want to hear. They will answer any questions with openness and sincerity that is not always experienced in this business.
If you are a debt settlement company in need of live debt settlement leads and want to work with a company that can deliver contact:
Kathy Alarcon
Vice President
Spotlight Media
1-800-371-1112
http://www.tvloanmodificationleads.com
###