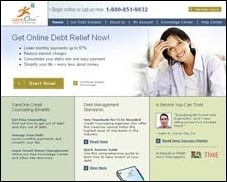 I'm going to spend $25 less per week.
Columbia, MD (PRWEB) January 10, 2007
A survey of New Year's resolutions for 2007 shows personal finances are a high priority among Americans. According to a Marist College telephone poll, the resolution to spend less money ranks number four, while the number one resolution is to lose weight.
But with inflation and household debt growing -- while wages and savings rates decline -- reigning in spending can seem impossible. Deficit spending now extends to households. According to an analysis by the U.S. Federal Reserve and MBG Information Services, by October 2006 personal debt towered 125 percent over income. On an annual basis, we owe a quarter more than we make.
"Consumers see January as a chance to make a fresh a start on getting their finances in order," says Clarky Davis, spokesperson for CareOne Credit Counseling Agencies. "However, once they sit down, add up all their debts and consider their monthly expenses, the task of paying off debt is overwhelming to many consumers."
How can you turn your resolutions into reality? New Year's good intentions, whether for fiscal or physical fitness, will come true if you have the right attitude, specific goals, a plan, and milestones.
Have an attitude
Believe in yourself. Believe you can make the changes you want to make, and commit to going through the process. Assume there will be setbacks but keep the faith: If you believe, you will achieve.
Choose a destination -- name your goal
Want to spend less and save more? Get out of debt? Great! First, define your terms. "Spend less" is positive, but vague. Name a dollar amount. Before you set that figure, you need to know where your money goes. Begin by listing monthly fixed bills, such as mortgage or rent, utilities, and car payments. Include your minimum credit card payments as well. Next, estimate grocery, transportation, and entertainment expenses. Subtract all monthly expenses from income, and
set financial goals according to your budget.
Make a plan
Let's say the goal is to contribute a dollar amount each week towards paying off debt. Write out a plan to do it. You may want to keep a notebook for a month, listing all the money you spend, to help you trim expenses. Perhaps you can gain some extra income through freelance work. Whatever you choose to do, it's easier to see progress when it's documented. Also, choose a timeline -- weeks, months, or longer -- to realistically accomplish your goals.
Remember a couple of things: First, positive works better than negative. A resolution to stop doing something fails more often than a resolution to get something you want. For example, "No more movies and concerts" might not work as well as "In order to buy a new car, movies and concerts are limited until I make my goal." Second, express your goals as specific actions. For example: "I'm going to make my lunch and bring it to work four times a week" instead of "I'm going to spend $25 less per week."
Milestones: Are we there yet?
Make notes of your progress toward your goal. Look at the numbers regularly. Give yourself credit for success, even if you don't achieve the goal as planned. It usually takes more than one try. Persist and you will succeed.
CareOne Credit Counseling agencies are a personal financial resource for you. We strive to maintain the best standards in the credit service industry. There are occasions when personal debt can spiral out of control. If you have severe debt, you may be eligible to enroll in our Debt Management Plan (DMP). A DMP is a systematic way to pay down your outstanding debt through monthly deposits to the counseling agency, which will then distribute these funds to your creditors.
"It's important for consumers to know they are not alone in dealing with their debt," says Davis. "Almost every consumer in our country is affected by debt at some time or another."
About CareOne Credit Counseling
The CareOne Credit Counseling service mark is owned by 3C Incorporated. Organizations that bear the CareOne Credit Counseling service mark are industry leaders committed to providing consumers with superior financial education and service. For more information, visit http://www.careonecredit.com.
# # #