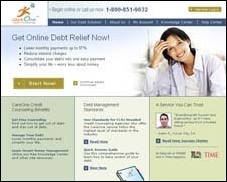 People are looking for solutions, and while there is no single magic answer, there are several options available to help consumers to get a handle on their spending habits and pay off their debt
Columbia, Maryland (PRWEB) March 7, 2007
Like losing weight or quitting smoking, paying off debt is a frustrating struggle for many Americans. Credit cards have become a staple of our lifestyle, and consumers are relying on them more and more.
Between 1990 and 2004, the average American household credit card debt increased 167%, according to CreditCards.com.
Without good money management and savings skills, those small little pieces of plastic can lead to big financial problems for consumers. Especially when consumers are relying on their credit cards as a financial safety net to pay for car repairs, medical expenses or rent or housing repairs rather than relying on their savings.
This practice is pushing more and more consumers over the brink and into financial despair.
"People are looking for solutions, and while there is no single magic answer, there are several options available to help consumers to get a handle on their spending habits and pay off their debt," says Clarky Davis spokesperson for CareOne Credit Counseling services.
What are consumers' options when dealing with their debt?
Self-help: This is the best option for consumers who are able to make more than their minimum monthly payments and who want to focus on paying off their debt. This process entails putting yourself on a budget - tracking your spending and not living above your means. Most importantly, pay down your debt (specifically any revolving debt such as credit cards). Establish an emergency fund to handle any unexpected expenses including illness, car problems and loss of job. Don't forget about saving for your retirement - take advantage of your company's 401K plan.
Refinancing Mortgage: Refinancing your home loan at a lower interest rate is great idea if you have equity in your home. But you must also remember to practice good spending habits so you don't end up in more debt and place your house at risk.
Debt Management Plan: A debt management plan is for consumers who have more than $2,500 in credit card debt and are no longer able to make their minimum payments. A debt management program is designed to help you get out of debt more quickly than you could on your own. Debt management programs help you become debt-free by:
Negotiating reduced interest rates
Consolidating your credit and other types of debt
Eliminating late fees
Helping stop calls from collectors
Debt Resolution Plan: This particular plan is for consumers who cannot pay back their creditors in full but do not want to declare bankruptcy. A debt resolution plan allows you to pay less than you owe. It's a solution if you can afford some payments, but not enough to be on a Debt Management Plan.
Bankruptcy: Bankruptcy should be a last resort as it affects your credit for at least 10 years. It should only be an option if you have no other solution.
These solutions can be found at agencies that provide CareOne Credit Counseling services. CareOne is the industry's leading debt management program brand, linking consumers together with agencies that provide customized solutions, 24-hour account access, electronic payment options, strict privacy controls, and ongoing support and counseling.
Contact Information:
Clarky Davis, Spokes Person
CareOne Credit Counseling Services
8930 Stanford Blvd
Columbia, MD 21045
410-910-2750
# # #