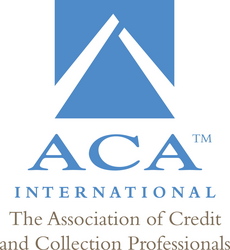 We are proud of our rate for complaint resolution, but we are pushing ourselves to do better.
Minneapolis, MN (Vocus) April 6, 2010
In its annual report to Congress on the Fair Debt Collection Practices Act (FDCPA), released April 2, 2010, the Federal Trade Commission's methodology for analysis paints an incomplete and inaccurate portrayal of consumer complaints against the third-party collection industry, according to ACA International.
"We agree with the FTC about the importance of consumer protection from debt collectors who engage in deceptive, unfair or abusive collection practices," said ACA International CEO Rozanne Andersen. "But, respectfully, by counting solely the number of consumer complaints without verification of whether they were actually illegal or a violation of the FDCPA, or whether the complaints were resolved, only tells a small part of the real story."
According to the Council of Better Business Bureau's (BBB) annual report on complaint resolution released in early March 2010, the collection industry resolved 85 percent of the complaints it had received in 2009, compared to the average of 73.8 percent among all industries tracked by the BBB. "Effective complaint resolution helps consumers find answers to their questions and reduces the likelihood and expense of adjudication through the legal process," said Andersen.
Since 2002, the credit and collection industry has resolved an average of 82.5 percent of the complaints filed with the BBB - exceeding by 11.5 percent the average of complaint resolution by all industries. From 2002-2009, all other industries resolved on average 71.45 percent of the complaints received.
"We are proud of our rate for complaint resolution, but we are pushing ourselves to do better," said Andersen. "That's why ACA is resolved to continue working with the FTC, state attorneys general, regulators and others to better assess consumer complaints and ensure that, as an industry, we better understand and diligently address them."
ACA International, the Association of Credit and Collection Professionals, is the comprehensive, knowledge–based resource for success in the credit and collection industry. Founded in 1939, ACA brings together more than 5,000 members worldwide, including third–party collection agencies, asset buyers, attorneys, creditors and vendor affiliates. ACA International establishes ethical standards, produces a wide variety of products, services and publications, and articulates the value of the credit and collection industry to businesses, policymakers and consumers. For more information about ACA International, visit acainternational.org.
Contact:
Mark Schiffman, PR Director
Tel. (952) 928-8000 x124
# # #