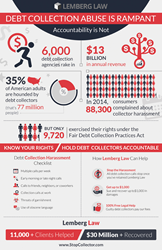 "During the first three months of this year, the CFPB forwarded 10,411 debt collection complaints to companies, yet only 105 of them have produced monetary relief."
STAMFORD, CT (PRWEB) April 22, 2015
After analyzing data on debt collection complaints collected in 2014 by the Consumer Financial Protection Bureau, consumer law firm Lemberg Law (http://www.LembergLaw.com) has found that the federal agency has an abysmal track record in obtaining financial relief for consumers. The firm's newly published white paper,"Consumer Financial Protection Bureau vs. Private Right of Action: Effectiveness in Obtaining Financial Relief for Victims of FDCPA Violations," highlights that the CFPB delivered financial relief in only 600 of the 88,300 complaints it received in 2014 – just two percent of the 39,500 complaints it forwarded to debt collection agencies for resolution.
The white paper notes that the Fair Debt Collection Practices Act (FDCPA) gives consumers the right to sue debt collection agencies that violate the law. Consumers who win federal FDCPA lawsuits can be awarded up to $1,000. In 2014, there were 9,720 suits filed in federal court alleging FDCPA violations.
According to Sergei Lemberg, who has been targeted by the debt collection industry as the "most active consumer attorney" each year for the past five years, "It's impossible to know the percentage of consumers who prevailed in federal FDCPA cases last year, but it's many times more than the two percent of folks who got money out of the CFPB complaint process."
But Lemberg added that the number of FDCPA lawsuits filed is only part of the picture when it comes to compensation for FDCPA violations. "We have many clients on the receiving end of debt collector abuse who receive compensation before a case is even filed in federal court," he said. "When debt collection agencies know they're in violation, they don't want to incur the expense of litigation, so they offer to settle in the pre-litigation phase."
The white paper also examines what the CFPB touts as a cornerstone of its public education efforts, the "Ask CFPB" online interactive tool. Although a third of the agency's debt collection questions and answers were ripe for informing consumers about their right to sue under the FDCPA, only 12 percent of the answers did so.
Lemberg noted that the tool's most relevant question, "What can I do if I believe a debt collection has violated the law?" produced an entirely inadequate response. "The CFPB provides a link and urges consumers to contact the Federal Trade Commission," he said. "Four clicks later, the consumer ends up on an FTC page that tells him or her to file a complaint with the CFPB."
Still, Lemberg is a strong supporter of the agency, which was created by the Dodd-Frank Act. "The CFPB is only a few years old, and they've made great strides," he said. "But they have a duty to educate consumers and advocate on their behalf." Lemberg says that the CFPB should inform consumers not only that they have a private right of action, but also that they're entitled to monetary relief if a debt collection agency crosses the line.
Unless the agency changes course, Lemberg says that consumers are on track to obtain even less financial relief through the CFPB complaint process in 2015. "During the first three months of this year, the CFPB forwarded 10,411 debt collection complaints to companies, yet only 105 of them have produced monetary relief," he said. "That's one percent for 2015 compared with two percent for 2014."
The white paper can be downloaded here: http://www.lemberglaw.com/wp-content/uploads/2015/04/cfpb_2.pdf
The debt collection infographic can be downloaded here: http://www.lemberglaw.com/wp-content/uploads/2015/04/lemberg_law_infographic.pdf
__________
About Lemberg Law
The attorneys at Lemberg Law represent consumers in Fair Debt Collection Practices Act, Telephone Consumer Protection Act, and lemon law cases, among others. Sergei Lemberg can brief you about the Fair Debt Collection Practices Act, remedies available to consumers who are victims of debt collector harassment, and other relevant issues.
For more information, contact:
Sergei Lemberg
Lemberg Law
http://www.LembergLaw.com
###