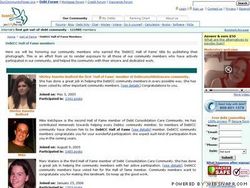 Our community is constantly growing
Carson City, NV (PRWEB) May 1, 2008
The Debt Consolidation Care Community has recently crossed 50 members in its Hall of Fame Section. The Hall of Fame is a platform that provides recognition to all the Debt Consolidation Care Community members who have actively participated in and helped the community with their sincere and dedicated work.
"Our community is constantly growing" says Jason Holmes, the community writer of DebtCC. He goes on to say "It is a common belief that in a large community, the percentage of active community members will be always less. However, in the Debt Consolidation Care community, the nature and effectiveness of the member participation has never deteriorated and that's probably the reason we have 50 valued members in the Hall of Fame".
When a community member completes 1000 posts in the DebtCC forum, he or she becomes eligible for the Hall of Fame Title. However, completing 1000 posts does not necessarily mean that the member is selected for the title. To get selected he or she has to get 10 votes with positive review from other members of the community.
Once the member receives 10 positive votes, his or her name gets included in the Hall of Fame. The winner is honored with a Gold foil embossed certificate with the "bird flying free" logo of yesdebtfree.org and a gift check of $100. It is indeed a moment of excitement for the winners. The 50th hall of fame member "unclewulf" was thrilled when his name was selected for the title; his excitement was evident from the first reaction that came from him "So... Does this mean I get one of them little HOF thingies with the stars and blinkin' lights? I can scarcely contain myself...."
The winners have the additional honor of getting their passport sized pictures published in the prestigious Hall of Fame Section. For this purpose, the winner is required to provide a recent passport size photograph with his or her real name (Full name) via an email.
###