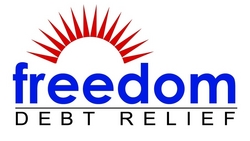 Fortunately, the new regulations from the Federal Trade Commission (FTC) that are now in effect can help consumers in their quest to find a service that is right for them
San Mateo, CA (Vocus) November 10, 2010
Americans who are facing unmanageable levels of personal debt can get help, Freedom Debt Relief co-founder and CEO Andrew Housser said this week, but they must understand their debt relief options to choose the best fit and avoid unethical business practices.
The latest statistics on U.S. debt show that Americans owe $2.4 trillion in consumer debt. Studies have found that the average American who carries credit card debt has a balance of more than $16,000.
While budgeting and lifestyle changes can help many individuals and families work their way out of debt, many do need help. According to Housser, they can find relief, but the landscape of options for debt help is confusing at best. "Fortunately, the new regulations from the Federal Trade Commission (FTC) that are now in effect can help consumers in their quest to find a service that is right for them," he says.
To help consumers sort out the alternatives, Freedom Debt Relief has developed a white paper that thoroughly examines debt relief options. That paper, "Debt Relief: Panacea or Problem? Uncovering the truth: the real differences, pros, cons of options for consumers in serious debt," is attached to this release or available at Freedom Debt Relief's website. Additionally, Freedom Debt Relief offers this consumer guide:
1. Independent debt reduction. An individual's best resource is to handle debt reduction him/herself, because it protects credit scores. The keys, Housser said, are to stop using credit completely, and to always pay secured debt, such as a mortgage or vehicle loan, first. Borrowers then should pay as much as possible on the debt that has the highest interest rate, while staying current with other debts by making minimum payments. When the first debt is repaid, consumers can use the same strategy on the next-highest-rate debt.
2. Direct negotiation. Those who cannot make even minimum payments on bills can try calling credi¬tors and asking for temporary hardship status. Some creditors may work out payment plans. "While creditors are under no obligation to negotiate, it is often in their interest to do so, since it makes payoff more likely," Housser explained.
3. Debt settlement. A debt settlement firm, such as FDR, works on consumers' behalf to lower principal balances due, often obtaining savings of 50 percent of the total debt, plus fees the company charges for its services. The firm negotiates directly with the consumer's creditors while the consumer accumulates funds for the settlement. Debt settlement firms charge consumers a fee for their services, comprising a percentage of the debt enrolled or a percentage of the debt reduced. The new FTC rules require companies to spell out key terms of service before enrolling consumers in a plan and mandate that debt settlement companies charge no fees until settlements actually occur.
Offering an alternative to debt management (credit counseling), debt consolidation and bankruptcy, debt settlement programs help qualified clients fully resolve their debts, commonly in two to four years. Programs often provide better repayment terms than a Chapter 13 bankruptcy filing and do not leave a permanent bankruptcy judgment on one's record. Debt settlement is best suited for individuals who are carrying serious debt, who are struggling to make required minimum payments, and who would otherwise often be considering bankruptcy or credit counseling.
4. Debt management. Debt management companies, also known as credit counseling agencies, maintain pre-arranged agreements with credit card companies to lower interest rates on a consumer's existing debt to a creditor-issued "concession rate." Debt management companies collect a monthly fee from consumers, as well as revenue from the credit card companies called "Fair Share" payments. As debt management plans reduce monthly payments, but not the principal amounts owed, monthly payments can be higher than those in debt settlement programs. Consumers who are able to stick with debt management payment plans can generally pay off debt in approximately five years. They are best suited for individuals who are facing a less-severe financial hardship than a debt settlement customer.
5. Debt consolidation. Debt consolidation simply combines multiple debts into one larger loan. Debt consolidation services usually ask consumers to make one monthly payment, which is used to pay creditors. Consumers pay back 100 percent of the debt, plus interest. Additionally, the loan is often secured by the borrower's property, such as a home or car, which puts those items at risk if the borrower cannot pay. Beware of high fees, and check the service's reputation. Those working with a debt consolidator may sacrifice the freedom to open and use additional credit lines.
6. Bankruptcy. Bankruptcy more seriously impacts a credit rating than other forms of debt relief. Bankruptcy is more difficult to obtain than it used to be, and more expensive. Bankruptcy reform enacted in 2005 sharply curtailed filings for Chapter 7 bankruptcy, the type of bankruptcy that eliminates most consumer debt. Chapter 13 bankruptcy filings, which require consumers to repay debt on repayment plans, are available to those whom their state determines, through its means test, have enough income to pay back at least some of their debt. Repayment terms generally are less favorable than those found with debt settlement. Consumers considering a bankruptcy filing should speak to a bankruptcy attorney licensed in their state.
FDR's thorough, detailed examination of options for consumers evaluating debt relief options is fully explained in its new white paper, "Debt Relief: Panacea or Problem? Uncovering the truth: the real differences, pros, cons of options for consumers in serious debt."
About Freedom Debt Relief (http://www.freedomdebtrelief.com)
Freedom Debt Relief provides consumer debt settlement services. Working for the consumer to negotiate with creditors and lower principal balances due, the company has served nearly 100,000 clients since 2002 and negotiates an average of $42 million in debt each month. The company is an accredited member of The Association of Settlement Companies, is a "platinum" member of the International Association of Professional Debt Arbitrators, and holds the Goldline Research Preferred Provider certification for excellence among debt settlement companies.
Freedom Debt Relief is a wholly owned subsidiary of Freedom Financial Network, LLC (FFN). Based in San Mateo, Calif., FFN also operates an office in Tempe, Ariz. The company, with more than 500 employees, was voted one of the best places to work in both the San Francisco Bay and Phoenix areas in 2008, 2009 and 2010.
###