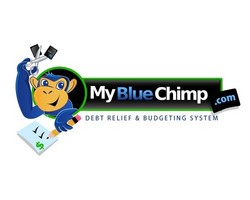 If everyone had this information Debt Settlement companies would cease to exist.
Santa Ana, CA (PRWEB) September 22, 2010
The timing couldn't have been more perfect. Just as the FTC announces heightened consumer protection initiatives for the Debt Relief Industry, MyBlueChimp.com makes a debt settlement system available to consumers for free.
Now consumers will have the knowledge that will empower them to get out of debt on their own without paying thousands of dollars to settlement companies, even those whose fees are based solely on performance.
MyBlueChimp.com's free debt settlement system combines unique web 2.0 features, insider knowledge and resources, and a budgeting system that makes for a pleasant user experience.
Immediately after users sign up for free they will be able to access a budgeting system and easy video tutorials that will take them step by step through an entire debt settlement process. In creating the system, "We felt it very important that the budgeting system be designed for those specifically in need of Debt Relief," said D.C. Sanford, CEO of MyBlueChimp.com. "Consumers can project their expenses, compare it to their actual expenditures, and adjust their behavior according to the system's warnings."
This is definitely a revolutionary step, one that will change the face of the debt settlement industry forever.
It's not all seriousness however, consider the name MyBlueChimp, "Everywhere you look you hear debt this, debt that, or get out of debt," said Fabian Toth, COO, "We're tired of hearing that too, and we wanted something more fun so we came up with the idea for a blue monkey to do the work for us."
The same light heartedness is embodied throughout the entire system. The system turns a drudging process into something more bearable and even perhaps fun, a feature that's been lacking in consumers' lives due to the burden of debt and financial hardship that has ridden this country the past few years.
Lastly, what web 2.0 site would be complete without a social media presence? You can follow MyBlueChimp.com on twitter as well as join the Facebook fan page.
###