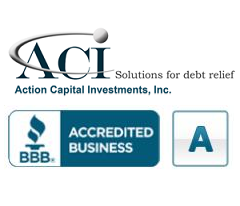 ACI has never charged our customers up-front fees for debt settlement services..."
Simi Valley, California (PRWEB) January 19, 2012
ACI-Solutions (http://www.aci-solutions.com) has launched a blog called The Debt Pro. The Debt Pro blog will focus on educating consumers about their options for debt relief, explaining the difference between debt consolidation, debt settlement, filing for bankruptcy and other debt relief activities. The Debt Pro blog will also publish information about debt settlement companies that are being sanctioned by the Federal Trade Commission (FTC) because they continue to use unfair or fraudulent business practices that hurt consumers seeking debt relief.
"I've been working in the debt relief industry for eight years," said The Debt Pro author and President of ACI-Solutions, Darrell Warner. "ACI has never charged our customers up-front fees for debt settlement services and have always delivered debt settlement results to the best of our abilities given our clients' situations. I am writing The Debt Pro blog to expose the bad guys that continue to take advantage of consumers, and to give consumers the information they need to get help." ACI, Inc. has an A-rating with the Better Business Bureau. Debt settlement is the only service ACI-Solutions provides.
Founded in 2004, ACI, Inc. helps consumers become debt free using settlement programs tailored to fit their personal needs and their ability to repay. ACI, Inc. negotiates and finalizes debt settlements prior to calculating and charging a fee to the consumer, a practice that became a law by the Federal Trade Commission as of October 2010. The company provides budget analysis and savings and debt management tips to its customers, so that once their debt is settled they have more of a chance to maintain their financial freedom in the future. ACI's process includes a free consultation when consumers call in to assess each situation and evaluate all viable options. If debt settlement is the best program for the consumer, ACI develops a payment plan for debt management tailored to each person's budget and decides on an appropriate time frame for the consumer to get out of debt as quickly as possible. Unsecured debts that are eligible for settlement are Credit Card/ Department Store debt, Medical Bills, Personal Loans (unsecured), Repossessions, Past Due Utility Bills, Overdue Rents, and 2nd Mortgage Deficiencies (from foreclosure or short sale). For more information about ACI, Inc., call 1-888-420-4791 or email info(at)aci-solutions(dot)com, and visit ACI's website.
###