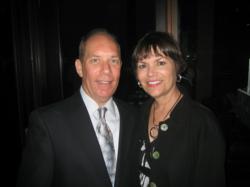 "ARIIX is an inspiration to me because it is the very model of what I am passionate about - starting with nothing and building a successful business even when it seems like the odds are against you." -Gary Kirkpatrick
Bountiful, UT (PRWEB) December 22, 2011
ARIIX, a premier health and wellness company, is pleased to announce the addition of award-winning home designer and entrepreneur, Gary Kirkpatrick, and his partner, Deborah Deras, to the Global Leadership Team. An entrepreneur as well as a nationally-recognized architectural designer of fine homes, Gary brings to the ARIIX team a powerful combination of business knowledge and real-world experience.
Starting with a thriving lemonade stand at 6, Gary's innate business savvy shined through when as a boy he discovered the benefits of sub-contracting out his paper routes and mowing jobs, later moving on to become a real estate broker, general contractor and home remodeling designer. Known every step of the way for his unparalleled work ethic, Gary's belief that "the key to quality is caring" was the foundation of his success.
Aside from his entrepreneurial adventures, Gary was also a Motocross competitor for many years. His racing days ended with an accident that resulted in the loss of one of his kidneys, however his competitive spirit remains intact, and he continues to apply it throughout his life, including when he made the decision to join ARIIX.
"I wanted to find a company with integrity and people of character that I could believe in from my heart," said Gary. "I made a special trip to visit the ARIIX Corporate offices when I first heard about them. I asked a lot of tough questions and walked away knowing I had found the people and the company to partner with for life!"
Faced with a bleak future in a declining real estate industry, Gary made the decision to transition his life from remodeling homes to remodeling lives, signed his application to become a representative with ARIIX, and immediately made two very important lists. One list of names and one list of excuses.
"I tore up the list of excuses and focused on the other – making calls to those people and starting the momentum that has brought immediate results for our business."
"ARIIX is an inspiration to me because it is the very model of what I am passionate about - starting with nothing and building a successful business even when it seems like the odds are against you," said Gary. "When you are able to be a part of helping others grow and being a part of something great in the making, that inspires me!"
"Gary's work ethic and lifetime of entrepreneurial experience is admirable and a valuable addition to our team," said Fred Cooper, CEO of ARIIX. "We look forward to the successes we know we'll share together in the future."
About ARIIX
ARIIX is a premier health and wellness company that is using the latest research in nutritional science to create their leading-edge nutritional products. The company was born from the shared vision of leaders in business and nutritional science, who wanted to create a unique company based on the "golden rule" of helping others to unleash their potential for good. ARIIX stands out with their blend of global vision, outstanding industry experience and leadership, unparalleled quality nutritional supplements and the philosophy that when one person thrives, the whole community benefits. The company currently operates in the United States, Canada, China, Hong Kong, Japan, Taiwan, and Thailand followed by Mexico in the first quarter of 2012.
For more information please visit http://www.ariix.com or phone 1-855-GO-ARIIX.
###