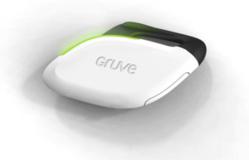 Our top priority at Gruve is developing scientifically based weight loss solutions that help people change their behavior in a way that is manageable and that can be maintained long-term.
Minneapolis, MN (PRWEB) November 17, 2011
The Gruve®, a core solution from Gruve Technologies, Inc. a leading provider of scientifically proven health and weight loss products, is quickly gaining popularity in the retail market with consumers looking for an effective way to lose weight and keep it off. The Gruve® is a total body motion activity monitor that uses ultra sensitive technology to capture 98% of daily activity.
The device is centered on the concept of N.E.A.T. (Non Exercise Activity Thermogenesis) which is all the calories one burns while doing normal daily activity. Research found that increasing the N.E.A.T in daily life can result in sustainable weight loss and a dramatic improvement in overall health. The Gruve solution provides a personalized plan for the user that is calibrated to the user's specific metabolism and habits. The device has three forms of feedback to keep the user on track—color changing calorie burn status lights, vibration to remind the user to move, and interactive website visuals. These physical cues help the users to modify their behavior over time and provide a sustainable path to successful weight reduction, maintenance and improved health.
The December 2011 issue of Prevention Magazine reveals the results of a test panel it conducted using the Gruve to verify the concept of tracking and increasing N.E.A.T. to lose weight. Staff at Prevention magazine worked with James A. Levine, MD, PhD, a professor of medicine at the Mayo Clinic in Rochester, MN to conduct the test and they were amazed at the results. The 25 women participants using the Gruve were able to lose weight by managing their calorie intake and increasing their daily non-exercise activity.
"These results don't surprise me at all," says Dr. Robert Gauthier, CEO, Gruve Technologies, Inc. "As a doctor, I can tell you that for most people it is increasing daily activity, not strenuous exercise that leads to sustainable weight loss and better health. That's why our top priority is developing scientifically based practical weight loss solutions that help people change their behavior in a way that is manageable and that can be maintained long-term."
Consumers can also see more of the product in the December 2011 issue of The Oprah Magazine, where it is listed as a Feeling Good, Great Gizmo.
About Gruve Technologies, Inc.
Gruve Technologies, Inc. provides scientifically validated weight loss and wellness products designed to provide a long-term sustainable path to better health. Headquartered in Minneapolis, MN, Gruve develops innovative technology and products based on cutting edge medical research that are proven effective to modify behavior and aid in weight loss. For more information, visit http://www.gruve.com.
###